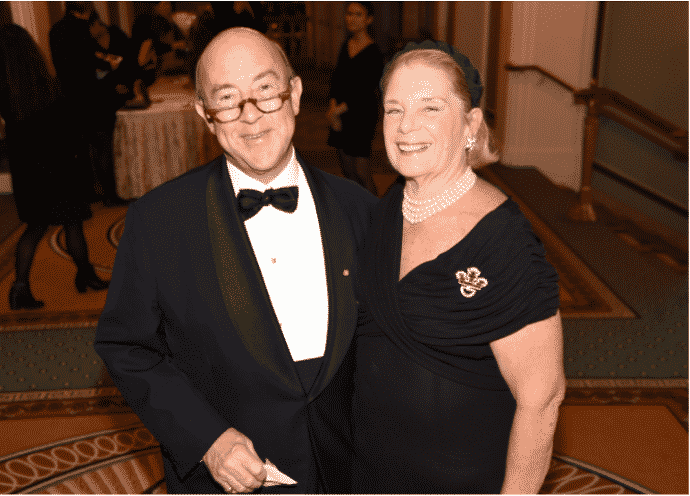 SEPTEMBER 25, 2019
GUEST DIARY• BY: KAREN KLOPP AND HILARY DICK
One of the most felicitous occasions on the Social Calendar this fall is the celebration of two quintessential New Yorkers, Fernanda Kellogg and Kirk Henckels. Between them they have supported almost all of the preeminent philanthropic organizations throughout the city. From cancer research and treatment, to nature and conservation, historic preservation, the arts and education, we are fortunate to have this dynamic duo in our midst.
---
---
Kirk observes: "Architecture, design and people inspire me in life." It is fitting that Kirk and Fernanda will be feted by Friends of the Upper East Side Historic District, receiving the Ambassador to the Upper East Side Award at the annual Gala taking place tomorrow, September 26th. The Awards will be held at the Metropolitan Club, quite the historic spectacle in its own right. The 1894 Clubhouse at the corner of Fifth Avenue and 60th Street is a stunning architectural monument by McKim, Mead and White.
In Stanford White's own words, "The club house will stand unrivaled in its size, and although the style will be in the severest and simplest character of Italian Renaissance and the feeling of severity and solidity will be carried through the interior, the scale of the building and the nature of its materials will give it an appearance unlike that of any building in New-York." The building gained Landmark Status in 1978.
---
---
---
Fernanda's career has been completely New York-centric as a luxury public relations and marketing executive at luxury brands throughout the city. The highlight of her career was at Tiffany & Co. where she worked for almost 30 years as Global Head of Public Relations and culminating as the Founder and Chairman of Tiffany & Co. Foundation. Her influence in this role was far reaching into the future with her choice of important causes and worthy organizations to support. In 2010, Fernanda was honored with the Rachel Carson Award at the Audubon's Women in Conservation Luncheon. She is a force of nature.
Kirk is equally engrossed with city life. While he is a proud 6th generation Texan, the Upper East Side has been his home for over 40 years. A champion rider from an early age, he won accolades as Co Champion at the Texas State Fair in 1970.
---
---
Then it was off to Stanford for a degree in economics and Art History, and to Harvard Business School. After successful stints in finance and fashion, Kirk pursued his real love — real estate and architecture. He spent 23 years at Stribling Real Estate where he established his reputation as a specialist in luxury and architecturally significant properties.
Kirk is currently Director of Luxury Properties for the East Coast for Compass while continuing his passion as Vice Chairman and Head of Finance Institute of Classical Architecture and Art. He is also a supporter of the Fund for Park Avenue and all things that will maintain the integrity and architecture of NY's pre-war architecture. Currently he sits on the Board of St. Bart's Conservancy, overseeing a full restoration of the church and parish house.
With his rare insider's knowledge, Kirk and Anne Walker published a gorgeous book, "Life at the Top" which presented the evolution of wealthy New Yorkers from mansions into cooperative apartments since 1880 and featured 15 of Manhattans best apartment buildings. He was named as one of the 100 most influential people in New York real estate for several years running.
John and I were thrilled to be asked to Co-Chair the Gala, along with Donald and Barbara Tober.
---
---
For a what to wear to a when the invitation calls for Festive Attire? Lace, chiffon, brocade, a little bling and of course, pour moi, sleeves are a must. In short — a PARTY DRESS! I love the excitement of shopping and imagining all of the festivities that will surround its wearing.
This is a perfect example of Festive Dress. It says "Let's Party!" in a most expedient way.
---
---
A little lace is always festive. This Marchesa Notte also pops a color.
---
---
Brocade and Jacquard are fabrics are ideal for fall and winter weddings for their rich shimmer.
---
---
And nothing says "Festive" like a little sequin sparkle. The V Neck can be particularly flattering.
---
---
Or how about a show stopper? Thinking North and South, wear now for evening drama and later this winter to a fancy fete in the Sunshine State.
---
---
And to top it all off, nothing beats a Glamourpuss Fur Jacket. Its length makes it perfect pairing with a fancy dress.
---
---
Hilary's dramatic sense of style can be found in this fabulous ensemble to wear now and straight through the holiday season.
"I am usually not a green girl but the color of this Veronica Beard dress caught my attention. The rich hue and flattering cut make it a win win for a festive event. I think it calls for gold accessories and black high heels … though gold would work well too. This dress will definitely be a go to for the fall and party season ahead."
---
---
When not involved in careers and charitable works, the couple is consumed by their other shared passion, horses and the equestrian lifestyle. With farms in both Millbrook, New York and more recently Aiken, South Carolina they bring, beauty, energy and enthusiasm to all that they do.
---
---
---
Together they created Fitch's Corner at their farm in Millbrook, NY. It was an event that began simply as a way to keep the next generation (Miss Fernanda) in productive summer pursuits, and grew into a spectacular spectator event as well as Eventing Association recognized and respected Three Day Event. Kirk and Fernanda opened their property to the public who could watch the riders on the hair-raising, cross country course. Fitch's became THE PLACE TO BE on the third weekend of July. They put on a heck of a show, including a lively and festive "Blue Jean Ball" and an elegant, tented luncheon with prime viewing of the the champion show jumpers.
---
---
No one has more fun at being Kirk and Fernanda than they do! They put love and laughter into engaged and engaging lives and lead their many friends along for the wild ride! The Friends of the Upper East Side Historic District made a brilliant choice in honoring this remarkable couple. Congratulations to all!
The world according to Fernanda: "I am a third generation New Yorker and have lived most of my life on the Upper East Side, first as a child on Park and 82nd Street, then as a young girl at Fifth Ave and 73rd, as a single gal at 74th Street off Lexington and now at Park Avenue and 73rd with my husband Kirk. The Upper East Side is my village and New York City my town."
---