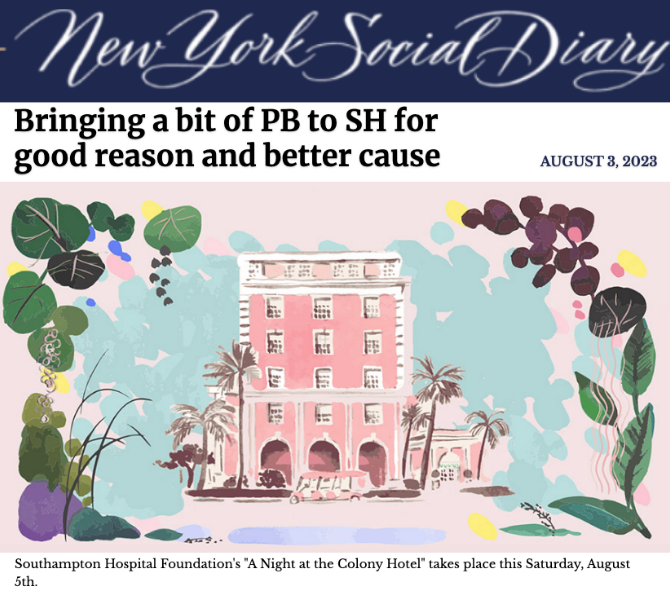 GUEST DIARY• BY: KAREN KLOPP AND HILARY DICK
What a clever-themed celebration for Southampton Hospital Foundation's Summer Soiree!
As the iconic Colony Hotel Palm Beach proclaims "One foot in the sand and one foot on Worth Avenue." The same can be said for the well-heeled philanthropists supporting this great institution which was founded in 1909 by a group of prescient residents, Stony Brook Southampton Hospital has remained true to its mission — meeting the evolving healthcare needs of the Eastern Long Island community. It continues to provide award winning, high quality services to a diverse population of residents thanks to its generous donors and sponsors throughout the community.
---
---
Known as the Grande Dame, The Pink Paradise, and many more appellations, The Colony Hotel Palm Beach has been stylishly stewarded by Andrew and Sarah Wetenhall. Since 2016, the popular couple has imparted their own verve to the property creating interiors with a joyful, elegant and timeless approach.
---
---
The Living Room, as the lobby is known, has been home to many a societal celebration from launch parties to intimate weddings. It's also a great perch to sip and people watch — Palm Beach style.
---
---
The wallpaper by deGournay was inspired by a mural that hung in the original lobby first opened in 1947. It is a whimsical collection of flora and fauna and highly personal Palm Beach icons.
---
---
For what to wear to celebrate this sensational summer, we turned to Moda Operandi for the chicest ensembles and Columbian fashion designer Johanna Ortiz, whose got a real knack for topically tropical patterns. Midi or mini, you choose which easy, breezy style you like. We couldn't resist the Staud Palm Bag for a bit of campy fun and these pairs of thick heeled sandals can stand up to a night of dinner and dancing. Johanna Ortiz also designs nature-inspired jewelry to add to the tropical vibe.
Catch the Breeze
---
---
And then it was on to Farm Rio for more festive fun. The brand is based in Rio de Janeiro where it embraces the motto "Dress in Happiness." We couldn't resist the pinkness especially in the Summer of Barbie!
---
---
Hilary brightens her choices, "The Southampton Hospital has a place near and dear to my heart. When my daughter Sophie was a little girl we had to rush her there in the middle of the night for stitches on her forehead. They took excellent care of her and there's not a scar in sight!
"Being a Palm Beach gal, I love dressing up in bright colors a la Colony and found these bright pieces to fit the bill. So great to have a bit of PB in SH for a good cause hosted by so many of my good friends."
---
---
Health and Wellness is the catch phrase of today and it's impossible to ignore those who had the foresight to build such a vibrant and ever-present provider of essential services to the community.
2007 The Kathleen D. Allen Maternity Center
This family-centered setting with private labor & delivery rooms is designed to provide a supportive, comfortable and medically safe birthing environment. Each is equipped with state-of-the-art monitoring capabilities for mother and baby.
---
---
2009 — The Ellen Hermanson Breast Center
The Center offers a wide spectrum of breast health services, including education, early detection screenings and breast cancer treatment and support. Satellite diagnostic services are also located in East Hampton and Hampton Bays.
---
---
2009 — The Ed & Phyllis Davis Wellness Institute
Stony Brook Southampton Hospital's Ed & Phyllis Davis Wellness Institute offers the only hospital-based integrative medicine on Long Island's East End.
---
---
2010 — Jenny and John Paulson Emergency Center
The Center has the ability to provide prompt assessment, resuscitation, surgery, intensive care and stabilization to the most critically injured patients.
---
---
2015 — Audrey and Martin Gruss Heart and Stroke Center
For ten years in a row, The Center has been recognized by the American Heart Association and The American Stroke Association, "Get with the Guidelines" program for applying the most up-to-date evidence-based treatment guidelines to improve patient care and outcomes in our East End community.
---
"It is a medical fact that the highest probability of having a medical issue for the 50+age group is a heart attack or stroke. Getting help is time-sensitive and that is why lives are being saved at the Audrey and Martin Gruss Heart and Stroke Center at Stonybrook Southampton Hospital. We are proud to be a part of this medical facility on the East End and trust that it will help those who need it." ~Audrey Gruss
---
2016 — The Christiane and Richard Hiegel Healthcare Center
Located in Westhampton Beach, this center provides a comprehensive menu of services, including: primary care and family medicine, physical therapy and rehabilitation, massage therapy, and acupuncture.
---
---
2019 — Barbara H. Lord Regional Dialysis Center
Their dedicated interdisciplinary team of Board-certified Nephrologists, including one on-staff, are able to facilitate emergent dialysis at any time.
---
---
2019 — The Phillips Family Cancer Center
The Center changes cancer care on the East End by providing high-quality, compassionate treatment in a state-of-the-art multidisciplinary environment that puts patients first.
---
---
2021 — The Edie Windsor Healthcare Center
Their vision is to provide high quality healthcare services in a caring atmosphere while maintaining confidentiality and respect for each patient as an individual.
---