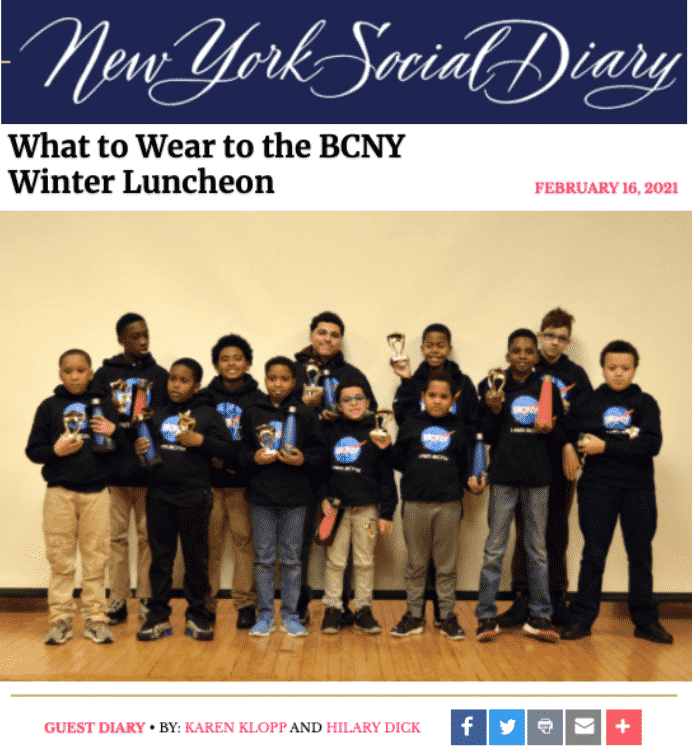 FEBRUARY 16, 2021
GUEST DIARY• BY: KAREN KLOPP AND HILARY DICK
The Winter Luncheon of the BCNY is widely acknowledged for its exchange of ideas and opinions with leaders in the field of business, media and philanthropy — Mike Bloomberg, Thomas Friedman, Harold Schultz have all added their stature to the annual gathering.
---
---
---
---
---
---
---
Except for its virtual aspect, this year will be no different intellectually as Ray McGuire, Democratic Candidate for Mayor, will share his insights on his extraordinary career. "My journey started at the bottom. I've done well for myself and I am proud of that, but my journey, like many who come to this city for opportunity wasn't always easy."
---
---
It is of note that Ray's background is similar to many of our BCNY boys and his achievements parallel the vision of the organization. That all boys are competent academically and emotionally, connected to their communities, rich in character, and confident in their futures.
---
---
Ray understands this objective. "The Boys Club of New York is a testament to our great city and its many incredible communities. Its mission for almost 150 years has been to provide, to so many young men over so many decades, the tools to find success, health, happiness, productivity and generosity to others. This the BCNY's core essence, embodied in its 4C's: Competency, Character, Confidence and Connectivity. Yet another reason to be proud of New York, and proud of being a New Yorker."
---
---
---
---
---
Betsy Pitts, the indefatigable President of the Women's Board, reflected on the importance of the Winter Luncheon. "The communities we serve have been particularly hard hit by the pandemic,and we are so grateful to Ray for taking the time from his incredibly busy schedule to be our featured speaker. His success story makes him a perfect match for our boys, many of whom will be viewing the event themselves! I am sure you will want to hear his views on education, public policy, and so much more."
---
---
---
---
---
So many BCNY supporters are spending the winter this year in points due south that Hilary and I determined that "winter whites" might be just the hue to span both seasonal climates. Hilary choices are white hot. "For those attending the luncheon from up north, a cozy sweater dress seems appropriate. I love whites and creams in the winter because they are crisp and give a soft glow. Adding gold accessories gives the perfect touch of warmth and gleam, especially around the face during a virtual event. And for the toes … anything goes, but a heel always makes me feel as if I am really attending a special event!"
---
---
---
Tory Burch has been a steadfast supporter of BCNY so I perused her new collection and found a spectacular collection of separates to wear both north and south.
For Chillier Climes …
---
---
And some extraordinary outerwear on SALE.
---
---
---
And while Florida is enjoying high temperatures now, just a week ago, you could have worn this "Topper" coat. It is rare to find a skirt and coat ensemble, a classic combination that is so versatile and timeless. The Lee Radziwill Double Bag is the latest and chicest style in the iconic collection.
Sunny South
---
---
---
In 1876, philanthropist and entrepreneur E.H. Harriman founded New York City's first Boys' Club to provide inner-city boys with a safe haven. In 144 years of continuous operation, BCNY has positively influenced the lives of over a million young men. BCNY seeks to fulfill its mission to empower boys and young men by providing effective programs and a supportive community with over 40 engaging programs. The Winter Luncheon supports the ongoing programming.
---
---
Please consider joining and be generous by clicking this link: BCNY Winter Luncheon.
---