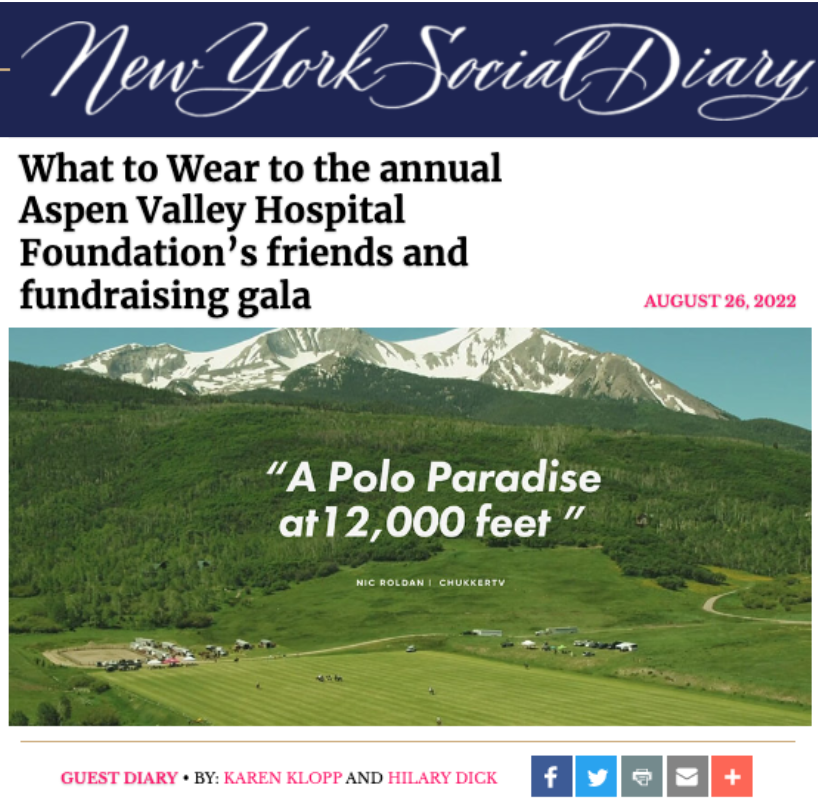 Summers in Aspen are a brilliant balance of fragrant air, luminous light and endless list of exertive possibilities in the great Rocky Mountains. Marc and Mellisa Ganzi, the dynamic duo of today's polo patons and thoughtful philanthropists, are opening the timbered gates of Aspen Valley Polo Club on August 28 to benefit the Aspen Valley Hospital Foundation for their annual friends and fundraising.
In the 1870's a group of dedicated Aspenites pooled their resources to create a community medical facility, with a mission to deliver extraordinary healthcare in an environment of excellence, compassion and trust. Today it stands as an example of thoughtful and thorough patient care serving the entire Roaring Fork Valley.
This fast-paced event is a highlight of the season's sport and social scene with spaces in high demand. And no wonder, with sumptuous catering provided by the iconic Caribou Club, a mainstay of both locals and celebs who frequent the bastion of taste and style. Attendees are also privy to free flowing libations and world class spectating as high goal teams battle valiantly for trophy and title.
In the shadow of the 12,965 foot summit of Mount Sopris, Aspen Valley Polo Club is one of the fastest growing United States Polo Association clubs in the nation. It attracts both players new to the sport, and highly ranked professionals. Young ones are welcome to attend hands-on camps. Melissa explains, "We want polo to thrive here, and we want Aspen to be the summer polo destination in America,"
Marc gave us a tour around the spectacular property, meticulously designed to take advantage of local stone and materials. The compound includes several laser-cut fields, a series of handsome barns, stately clubhouse for asados and unique entertaining opportunities. In addition there are frontage & riparian rights on the Roaring Fork River plus an organic farming operation producing a bounty of finest fruits and vegetables. It really is paradise at 12,000 feet!
For what to wear in Aspen, the chicest of western towns, we shopped Zimmerman whose current collection evokes the old west with flounces and flair.  This "daisy chain" fabric is perfect – just pick your particular style. Boots, block heels and wedges all designed with ease of walking on grass and the customary half-time divot stomp on the field.  Hat and shades complete this expert spectating look.     
dresses: Daisy Mini  $695  /  Daisy Midi  $750   /  Daisy Tie Waist  $595     accessories:  Cosmo Oval Frame Sunglasses  $260  /  Star Thread Thru Earrings  $210  /  Fine Wave Fedora  $530  /  Hoop And Star Earrings  $225   /   Tooled Leather Bag  $1250     shoes:   Texano Boot  $860  /  Wave Strap Wedge  $550
Hilary stylishly concurs, "What a perfect opportunity to wear the western themed looks of Zimmerman's current collection! Dark jeans and cowboy boots with the signature oversized sleeve blouses that you can dress up or dress down are fitting for this beautiful spot. You can wear from day to night as you take in the picturesque views and fast flying sport."
tops: Celestial Spliced Blouse $750 / Tie Neck Sweater $495 / Collared Shirt $395 bottoms: Kaleidoscope Stovepipe Jean $565 / Celestial Virgo Flare $1350 / Kaleidoscope Wide Leg Jean $595 accessories: Multi Star Earrings $275 / Semi Precious Ring $185 / Cosmo Cat Eye Sunglasses $240 / Tooled Leather Bag $1250 shoes: Texano Boot $860
So if you are heading westward, don't miss an opportunity to visit this exciting outpost of the Sport of Kings, Aspen Valley Polo Club.
And if your rules of the game need a brush up, USPA explains it all.