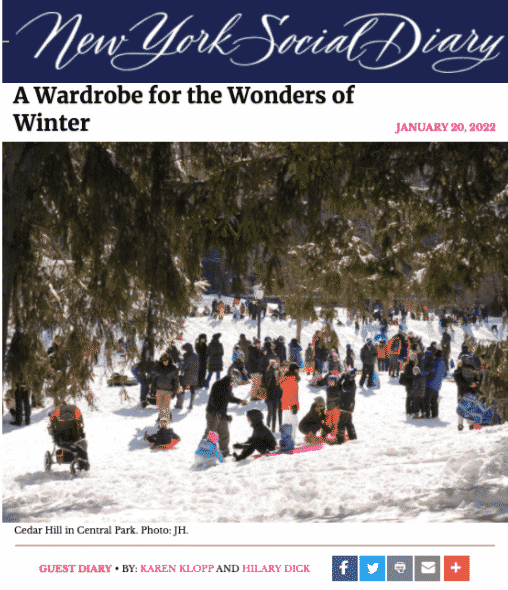 We were inspired by JH's recent photograph of families frolicking in Central Park after the last snowfall; and soon realized that it was time to update our winter wardrobe. As someone's Swedish grandmother used to say, "There is no such thing as bad weather, just bad clothing." Hence, when the temperatures drop it is exhilarating to be dressed in the proper ensemble to enjoy the great outdoors with great vigor.
---
---
First things first. A Puffer Coat is the chicest way to navigate the streets from upper Manhattan to the tip of the island, and so we embrace this piece as a shield against the extremes of nature. For winter travel, it cannot be beat — on the plane as a pillow or blanket, or upon arrival just shake it out and go. To provide maximum warmth, we shopped this collection of coats that cover your middle. A nipped-in or belted waist can avoid the Michelin Man silhouette. Inventory is low and disappearing fast, so be ready for that next plummet.
---
---
---
Yes, puffers come in other shades, but for the city — black is the preferred hue. And for the fashion forward, we recommend The Sleeping Bag Coat, created in 1974, by style icon Norma Kamali. It is just as relevant today.
---
---
Its popularity has led to a Sleeping Bag Car Coat …
---
---
And w couldn't resist this cozy clutch.
---
---
Fur (or faux) is always a brilliant choice for a winter wonderland wardrobe. This selection is in stock but they won't last!
---
---
---
A great jacket and a few accessories go a long way to making a statement, but it is also important to be warm and cozy underneath it all. J Crew has tons of great sweaters and pieces to look pulled together when you finally get inside. Their laying cashmere is always a go-to. And with sale prices galore, affordable as well. I also like to carry my whites into the winter as it feels fresh and bright. And of course, any boots have to have a heel for me!
---
---
---
We remember with great fondness the days spent sledding on Dog Hill with the children when there were actual snow days — no virtual anything! LL Bean is the best for nostalgic gear.
---
---
Now that the children are all grown up, our preferred pastimes are cross country skiing, strapping on snowshoes, or just taking a walk. Why not have two pairs on hand to trek with a partner? Not sure of your size? From 80 to 160 lbs. — 21 to 23 inches are recommended. From 120 to 200 lbs., you can go up to 25 to 27 inch length.
---
---
We found a Cross Country Set which fits on most snow boots, and the wider width makes them more stable for navigating terrain.
---
---
A pair of insulated snow boots are essential for evading Jack Frost's chill. Hunter Boot and Sorel are terrific brands for style, price and effectiveness. We chose both pull-on and lace-up models.
---
---
---
If ice skating is more your speed, the newest in recreational skates are soft — no more bleeding ankles!
---
---
---
Lasker Rink was our home away from home for years of Ice Hockey. Now that it is under construction, we found some other outdoor facilities. The popular Wollman Rink at the southern end of the park, and the rinks at Bryant Park, Governors Island Winter Village, Brookfield Place, Manhattan West and of course, the iconic Rock Center all provide endless opportunities for an exhilarating experience.
---
---
Speaking of ice hockey, Courtney Moss and Gigi Mortimer conceived of Glamourpuss Fur Funnels while shivering in the stands to cheer on their sons. The Funnels come in tons of fun shades and can be worn around your neck or head. A super Valentine's Day gift in pink!
---
---
---
This image from 1860 piqued our interest: "The Caledonian and Thistle clubs playing the Scottish national game of curling upon the frozen pond in the Central Park, New York." Research on the ancient game, rumored to be the world's oldest team sport, revealed that it originated in Scotland as early as as 1500s where the competitions took place on the lochs and lakes. It is also known as the "Roarin' Game" for the sound of the rock grinding across the ice. In the 19th century, as Scots roamed the world, they shared their passion in locales with climates favorable to the sport.
---
---
The Popularity of Curling has intensified in this country since the US Men's Team defied the odds to win the Gold Medal at the 2018 Winter Olympics. We were fascinated by the arcane sport of sticks and stones, frantic scrubbing, and lots of yelling! Curlers do not present themselves as super human, unattainable athletic specimens. Instead, they are highly relatable and they make it look like fun.
---
---
To find out how it is played, watch this amusing video, Curling in 2 Minutes …
---
---
If you are interested in trying out the sport for yourself, there are actually a few options in the city. Bryant Park has an Iceless Curling Cafe, and to find a place to receive instructions contact Curling New York City.
And if all of this is just too stimulating, kick back and tune into the Winter Olympics, beginning February 4th, 2022. For a complete schedule click here.