As we continue our celebration of our 10th Year, we are republishing one of our articles from New York Social Diary. We hope it brings you a bit of joy and celebration of the natural world. xxoo KK & Hilary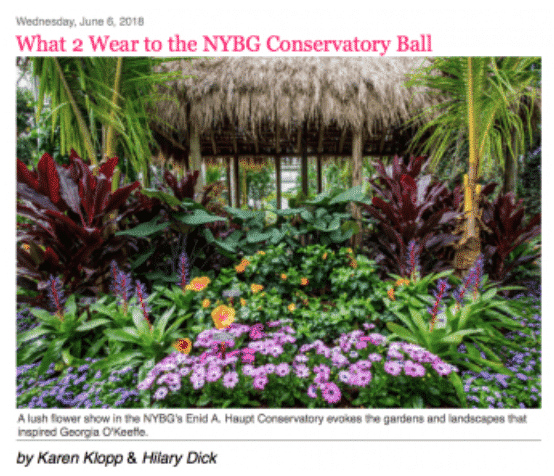 Say ALOHA! to the New York Botanical Garden Conservatory Ball as it celebrates Georgia O'Keeffe: Visions of Hawai'i with a fantastic luau themed event. The excitement is mounting for THE soiree of the season, in an intensely tropical habitat that only NYBG can create. The Conservatory Ball Gala Chairmen devising this divine destination are Alexandra Lebenthal, Gillian Miniter,Deborah Goodrich Royce, Gillian Steel, and Catherine Marlette Waddell.
The Garden has created a monumental immersive experience that includes a historic film, an exhibit of O'Keeffe's journey and visit to Hawaii, contemporary Hawaiian artists, works of NYBG botanists in the Pacific islands, a poetry tour, as well as the carefully curated collection of this heralded artist's work. Last hung together in the city at their debut in 1940, these little known paintings are causing quite a stir.

Paintings in Hawaii Georgia O'Keeffe 1939

Garden Patron, Patty Fast told us, "The luau themed Conservatory Ball will take place against the backdrop of the most lush and colorful display of exotic Hawaiian flora in the Enid A. Haupt conservatory and honors the landmark collection of works by the artist Georgia O'Keeffe that is currently on exhibit at the Garden. It will surely be a wonderful evening!'

Caroline Williamson, a Journal Chair noted enthusiastically, "The flowers and plantings are always special at the NYBG, but this year they are really showcased through the paintings in this exhibition. Georgia O'Keeffe captured the pure essence of the flora and fauna of the islands. Having been familiar with the artist's previous works in New Mexico with its distinctive landscape and multiple iconic artifacts, it was a real surprise and treat to see this lush collection."
The collection came into being in an unusual way – and without the approval of Georgia's husband, gallery owner, and photographer Alfred Stieglitz, who did not believe in the commercialization of art. In 1939, the artist was asked by A.W. Ayers to create artwork for the Hawaiian Pineapple Company known as Dole. O'Keeffe agreed to submit two works for advertisements, as long as she could paint whatever she liked. It was Georgia's first trip to Hawaii and she was deeply moved by its natural beauty. The exotic influence remained in her work long after the nine week solo sojourn over strange territories and unwelcoming seas brought her to this unfamiliar land. With her reverence and introspection of the natural world already established, she sought to find the essence of the islands. The result was a new collection of paintings of intense beauty.
Magazine Ads from the exhibit.
This year's mega celebration is honoring another American treasure, Gregory Long, CEO and The William C. Sterre Sr. President. Since 1989, Gregory has lead the organization with forward-thinking vision and action, steering The Garden on its premier trajectory. Under his leadership, NYBG has transformed more than half of its 250 acre National Historic Landmark landscape into a venue to educate and entertain over one million visitors a year. He is credited in the transition of NYBG from a hollowed, traditional institution to a relevant, modern organization which has become a model for scientific scholarship and study around the world.
Under Gregory's leadership the Enid A. Haupt Conservatory was restored to glory.

The fashionable Gala Chairman Gillian Miniter was especially enthusiastic, "We are all excited to celebrate Gregory and his retirement and the beautiful Georgia O'Keeffe Hawaii exhibit was so much fun to use as the background for our Hawaiian themed
Ball."

Patty Fast added her admiration, "This year's gala will undoubtedly be a very special evening celebrating Gregory Long, the President of NYBG and his many years of extraordinary leadership."
When asked to comment, Gregory Long was as eloquent as he is modest, "When I came to The New York Botanical Garden, I joined an institution that was one of the most important of its kind anywhere, and that was needed more than ever by its city and by the world of research and conservation. As I quickly discovered, the many aspects of the Garden are as varied, marvelous, and intricately interconnected as the species of the plant kingdom itself. That's why I say that everything I have done here has been through the support and collaboration of a great many people: our dedicated Trustees and staff, far-sighted government officials, loyal philanthropists with wide-ranging interests, an international network of scholars, scientists, and educators, and our neighboring communities in the Bronx. It has been an unimaginable privilege to serve all of them."

There can be no doubt that the these dedicated garden lovers delight in dressing in bright blooms for one of the last and most spectacular galas of the season. Hilary's selection is festive and tropical and reveals a connection to the artist's family.

The invitation to this year's Conservatory Ball is extremely enticing and festive. The theme of a luau is a wonderful one and I have always been a great admirer of Georgia O'Keeffe's work. I was first introduced to her paintings many many years ago, when visiting her sister, Anita Young. My grandmother, Bunny duPont, and Mrs. Young were great friends and we would often swim with her in her pool at her beautiful home, Montsorrel in Palm Beach. And every now and then we were given a tour of the house and shown the amazing paintings of her infamous sister Georgia. The tropical experience that NYBG will create will be the perfect backdrop for O'Keeffe's works and it should be stunning to see. Karen and I like to dress for the theme of a party and these floral dresses seemed right for a luau night. They do not need much in accessories as the dresses are bold enough but a bit of complimentary color is always a good idea.

gowns: Diane Von Furstenberg Cowl- Neck Silk Floral $498 / Alice+ Olivia Deep-V Floral Print Ruffled Tiered $995 / accessories: Oscar De La Renta Chain Tassel Earrings SALE $198 / Oscar De La Renta Impatiens Flower Earrings $490 / Anya Hindmarch Pillow Metallic Clutch Bag $575 / Judith Leiber Couture Coffered Crocodile Minaudiere Clutch $1795 shoes: Sophia Webster Sandal $550 / Christian Louboutin Jonatina Embossed Sandal SALE $795
While Hilary chose florals, I picked two bright gowns and accessorized to to fit the theme with pineapples, raffia and palm trees. I found these festive fascinators on Etsy but you could ask your florist to put together a little orchid or bird of paradise on a comb for a suitable breezy island look.

gowns: Talbot Runhof $1495 / Marchesa Notte $1095 accessories: Ranjana Khan Fringe Fan Earrings $280 / Oscar De La Renta Impatiens Flower Earrings $350 / Edie Parker Raffia & Pineapple Clutch SALE $ 1536 / Samudra Surf Jaipur Cotton Canvas Pouch $25 shoes: Christian Louboutin Strappy Red Sole Pump $895

If you can't get to the Ball, don't miss this once in a lifetime show. For tickets and information, including Aloha Nights and Georgia O'Keeffe After Dark, please visit NYBG O'Keeffe Exhibition Information.

While researching this article, I became so intrigued that I couldn't wait for June 7. Yesterday I took myself to NYBG for a delightful few hours lost in the gardens and the exhibits. Don't miss the visual presentation narrated by Sigourney Weaver that traces the journey from New York City to Hawaii through daily correspondences with her husband. Imagine in 1939, a woman traveling alone to an unknown destination. It is an extremely personal peek into the thoughts of this remarkable artist.
So moved by her time in Hawaii, Georgia O'Keeffe left this sentiment, "If my painting is what I have to give back to the world for what the world gives to me, I may say that these paintings are what I have to give at present for what Hawai'i gave to me."