One of the most elegant and fragrant events of the spring season is without a doubt the New York Botanical Garden's Conservatory Ball taking place on Thursday, June 5th  The wonderfully capable Gala Chairmen, Mrs. Eric C. Fast, Mrs. Timothy M. George, Mrs. Charles B. Johnson, and Mrs. Sylvester F. Miniter and th Honorary Chairmen, Mrs. Jeremy H. Biggs,  Mrs. Richard L. Chilton, Jr, and Mrs. B. Robert Williamson, Jr.  have created an exquisite evening, enhanced by the romance and beauty of the gardens.
For what to wear when the blossoms are in bloom, we shopped at Bloomingdales to find the perfect Monique Lhuiller in peony pink soft column of natural simplicity.  Beautiful chandileer earrings, an embellished cuff, graceful sandals and a gilded minaudière complete this bountiful ensemble.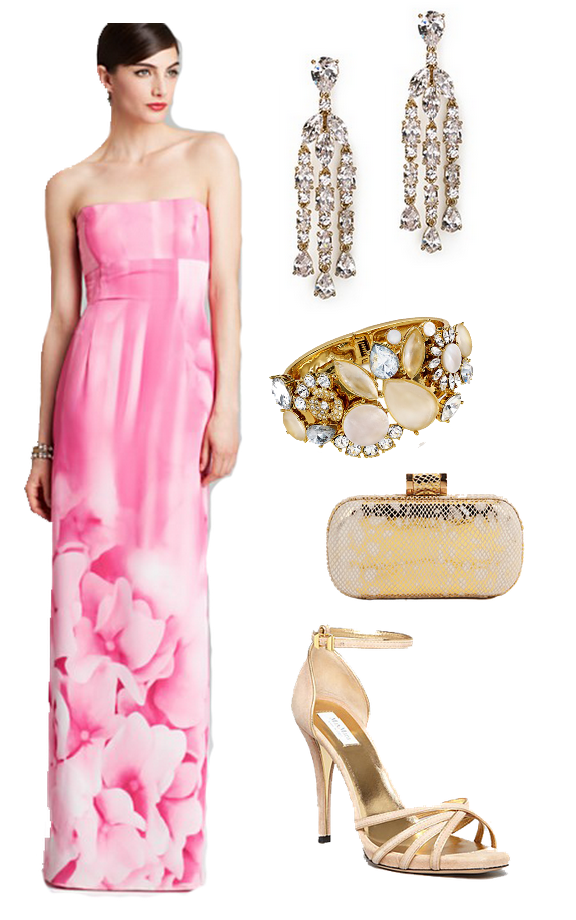 For more information and to purchase, please click on the links.   ML Monique Lhuillier Gown Strapless Printed Column $598   /   Nadri Slim Long Chandelier Earrings $165   /   Kate Spade New York Grande Bouquet Statement Bangle $228   /   Halston Heritage Clutch- Oblong Minaudière $295   /   Max Mara Platform Sandals Regina High Heel $437.50  
Speaking of gardens, the  first peony of the season at Smithfield Farms.