This years 83rd Oscar Academy Awards will mark actor, Nicole Kidman's third Academy Award nomination for best actress in a leading role. In the film Rabbit Hole, Kidman plays, Becca, a woman who is coming to terms with the normality of life after the  death of her 4-year-old son in a car accident. Through trying to cope with such a senseless loss she in turn finds herself drifting apart from her husband, Howie, played by Aaron Eckhart. In what could be a deeply depressing and dark film, one sees that Kidman's entirely real portrayal gives a highly sensitive look at such realities. Gearing up with what could be Kidman's 2nd Ocsar win, we keep asking ourselves, what should Nicole Kidman wear to the Oscars? Looking back at  Kidman's red-carpet style we seem to favor her minimalist, ethereal and metallic pieces and found this amazing satin-jersey Gucci gown that would be perfect. We picked warm-toned accessories such as these Lanvin crystal earrings and bronze DVF clutch to go with Kidman's auburn-hued hair. We are counting down the days until Sunday, February 27, to see who wins at this years Academy Awards, for further information please go to Oscar.com and to see more of our Oscar Dressing posts, click here!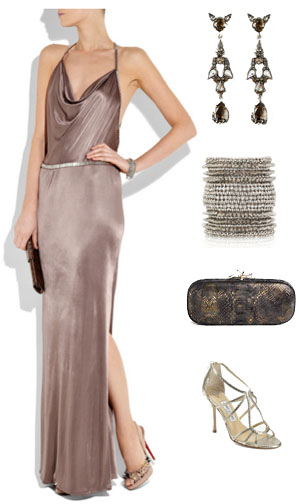 Left to Right:  Gucci Satin-Jersey Gown ($2,700), Lanvin Crystal Earrings ($625), Phillippe Audibert Silver Cuff ($820), DVF Bronze Clutch ($325), Jimmy Choo Sandals ($725)
Check out W2WW's favorite Nicole Kidman Red-Carpet looks through the years…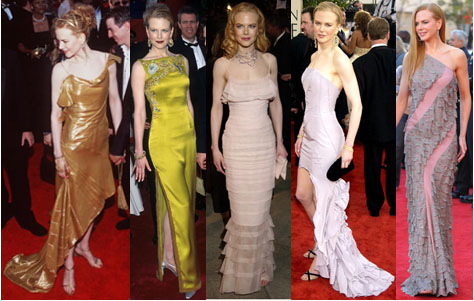 Nicole Kidman sporting metallic and ethereal looks on the red-carpet
Rabbit Hole film trailer in which Nicole Kidman is an Oscar Nominee for Best Actress in a Leading Role.