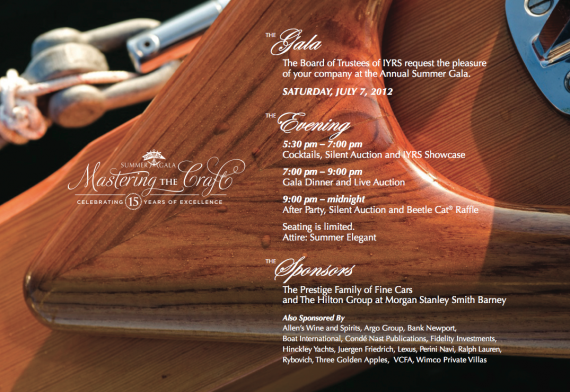 When on holiday in Newport, Rhode Island,  International Yacht Restoration School is one of the most wonderful places to visit.  This year, under the direction of event co-chairs Jamie Hilton of Newport, and Pam Rorke Levy of San Francisco, the IRYS Newport Campus will become a spectacular setting for a night that you won't want to miss!  This is one of Newport's most important stops on the summer party scene: the annual IYRS Summer Gala, celebrating 15 years of Mastering the Craft with cocktails, silent and live auctions, IYRS Showcase, gala dinner, after party, and Beetle Cat Raffle. Last summer, an international crowd of some 700 people attended the Gala's sit-down dinner and after party, helping to raise funds for school scholarships and the educational programs. Be sure to check the Live Auction Preview for a list of fabulous vacations and other items. For more information, please contact Erica Kana at ekana@iyrs.org, or call her at (401) 848-5777, ext 231.
What could be more ship-shape for attire of "Summer Elegance" than these two navy sheaths from Michael Kors?  And who else could provide such chic choices in style and price?  We trimmed them, like shiny buttons on a Commodore's blazer, with accessories of bright gold and brass for a pretty, polished look.  All hands will be on deck to see you off in this elegant above-board ensemble.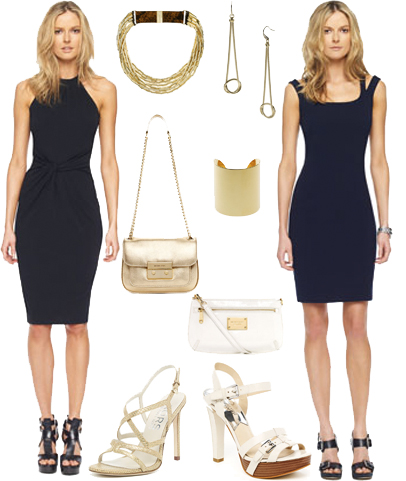 DRESSES: Michael Kors Jersey Halter Dress ($1295), Michael Kors Split Stress Dress ($150)
ACCESSORIES: Multi-Strand Barrel Necklace ($395), Snake Chain Knot Earrings ($75), Wide Golden Cuff ($125)
BAGS & SHOES: Sloan Small Shoulder Bag ($228), Michael Kors Jet Set Large Wristlet ($98), Snake-Embosses Albury Sandal ($225), Grace Leather Buckled Platform Sandal ($165)
For our Fashion Editor Hilary Dick's picks on what to wear on holiday in Newport, please go to Hilary Dick in Newport.