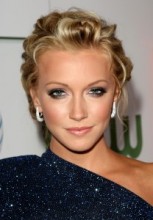 Once again, we have shopped the content with our friends at New York Girl Style to bring you a fresh perspective on style.  We like their "It Girl" series, to keep us up to date on the latest young fashionistas of style.   This week's NYGS's It Girl  is Katie Cassidy. Cassidy now runs her own personal style blog Tomboy KC, doling out style and beauty tips, travel guides, plenty of fashion inspiration, and of course, gift giving guides.
"What are the requirements for being an It Girl? Success on TV? Movies? Style inspiration? All-around fierce lady? It'd be easy to crown an It Girl if she were good at even ONE of the things from that list. But Katie Cassidy manages to check of each and every one of those items. Basically, she's good at what she does, and she does well . . . a lot"
As the daughter of old school teen idol
David Cassidy
she's tried her hand at singing, modeled through her earlier teen years, and has since landed . . .   read more at
New York Girl Style.