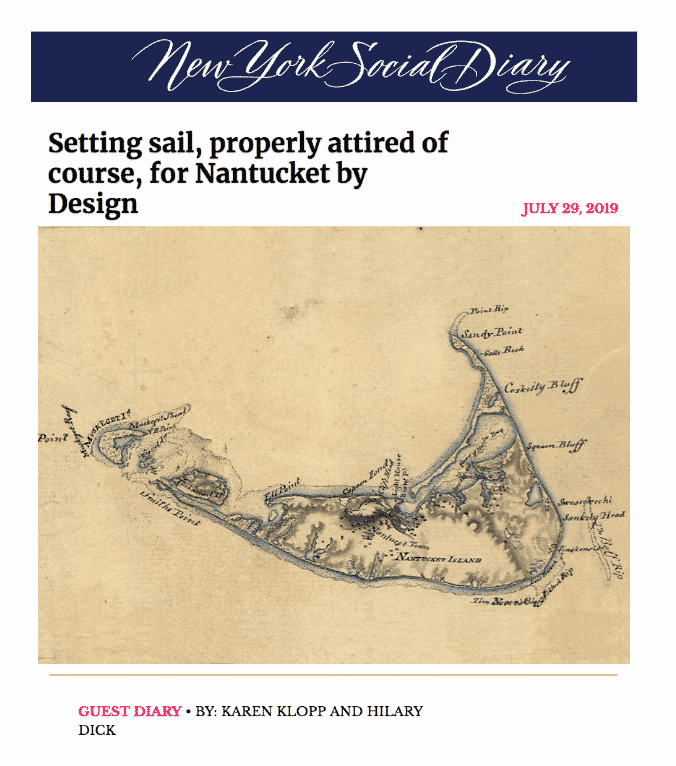 If there is one weekend to land on the glorious island of Nantucket it is for Nantucket by Design, August 1st to 3rd, a whirl and swirl of celebrations of the island's influence on American Design — lunches, lectures, preview of the Antiques Show, private dinners and a grand finale at the Nantucket Whaling Museum. With the elegant Phoebe Tudor as the Chair, you can guarantee a whale of a time on this historic aquatic enclave.
This hook-shaped patch of sand, 30 miles out to sea has been shaped by water, wind and the shifting whimsy of Mother Nature. Some believe that it will cease to exist in another few hundred years, vanishing back into the sea. Nantucket or "far away place" is sometimes referred to as the "Grey Lady" as it is often shrouded in fog and sea spray . . . .
To read the full article, and view more summer whites fashion, go to New York Social Diary.
Hilary creates a perfect summer ensemble.