W2WW Fashion Editor Hilary Dick and I had a ball at the preview of the new exhibit at The Museum at FIT, A Queer History of Fashion. Valerie Steele, Fred Dennis and Joel Sanders have curated and created an exhibit that sustinctly captures the essential moments of the gay movement and the tremendous influence of culture on fashion and fashion on culture.   In their outstanding  sartorial style, The Museum at FIT presents evocative images and archival treasures that are highly entertaining and educational. Please don't miss this important exhibit.   To join The Couture Council and an opportunities for invitations to special events and behind-the-scenes tours, please visit The Couture Council.   Due to the preservation of the fabrics, the lighting in the video will seem slightly dim.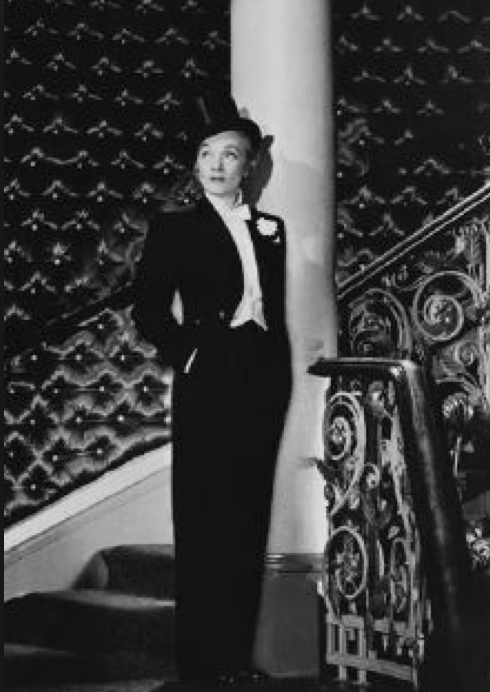 A Queer History of Fashion: From the Closet to the Catwalk seeks to explore the "gayness" or "queerness" of fashion by drawing attention to the historic presence of gay men, lesbians, bisexuals, transgender, and other "queer" people in the fashion system. The exhibition also looks at the creativity and resistance to oppression expressed by LGBTQ subcultural styles.  Curated by Fred Dennis, Senior Curator of Costume, and Valerie Steele, Director and Chief Curator of The Museum at FIT, with exhibition design by award-winning architect Joel Sanders, the exhibition features approximately 100 ensembles spanning more than a century of fashion.

Like Valerie Steele, we were inspired by the elegant, audacity of Marlene Dietrich, and found some tux-appropriate attire at SAKS.com. So get ready for your close up darling!  For information and to purchase, please click on the photos below.  Please remember that when you shop through our site, 10% of our commission from sales is donated to our Charity of the Month.
Shop our Tuxedo Looks at SAKS.com.

Must-Read the Companion Book by Author Jonathan D. Katz,  and Editor Valerie Steele