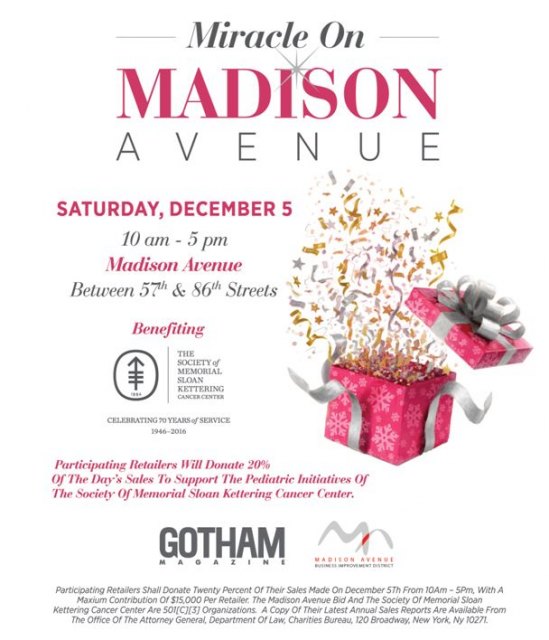 I am thrilled that for the 4th year in a row, the Miracle on Madison Avenue shopping event is benefiting The Society of Memorial Sloan Kettering. On Saturday, December 5th, participating stores on Madison Avenue will donate 20 percent of their sales that day to MSKCC. And this year Gotham Magazine is the media sponsor. It is always a fun festive day to shop for a cause and get into the holiday spirit. The stores love to take part and they usually have treats, cocktails and carolers. I plan to keep warm wearing my beautiful cashmere and fur poncho by Glamourpussnyc. I wear this with flared jeans, like these by Stella McCartney, and wedge ankle boots that give me height and are very comfortable for walking. Add a hat, a chic bag with a strap for easy hands free shopping, and I am ready to go! If in NYC, I hope you will join me. And don't forget to let the stores know you are shopping for Memorial Sloan Kettering.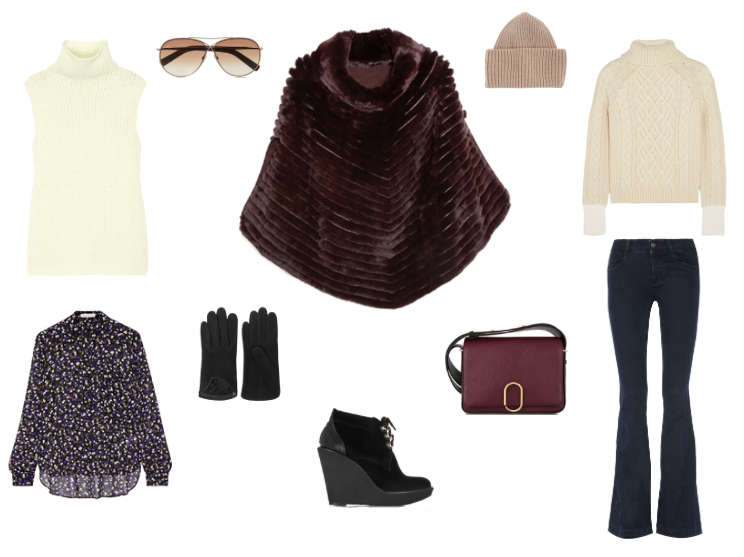 Theory Vandrona Alpaca-Blend Turtleneck Sweater $263   /    See By Chloe Forget Me Knot Printed Georgette Blouse $252 SALE   /    Tom Ford Eva Aviator- Style Gold-Tone Sunglasses $425   /   Rag & Bone Moto Leather-Trimmed Suede Gloves $255   /   Glamourpuss NYC Snap Sleeve Ponch $1375   /   Burberry London Suede Wedge Ankle Boots $595 SALE   /   Stella McCartney Ribbed Wool Beanie $265   /   3.1 Phillip Lim Alix Textured Leather Shoulder Bag $1050   /   Topshop Unique Keswick Cable-Knit Wool Turtleneck Sweater $231 SALE   /   Stella McCartney Mid Rise Flared Jeans $325
Nearly 80 stores are participating in this year's Miracle on Madison.. stores from A to Z .. literally .. Aaron Basha to Zitomer's! I did a little on-line research to see what items I can pick up as presents and the options are limitless.. depending on what you want to spend. I was drawn to sparkle and warmth, pinks and blues. A little something for every one. This is just a taste and I look forward to checking off every one on my list on this fun shopping day for MSKCC.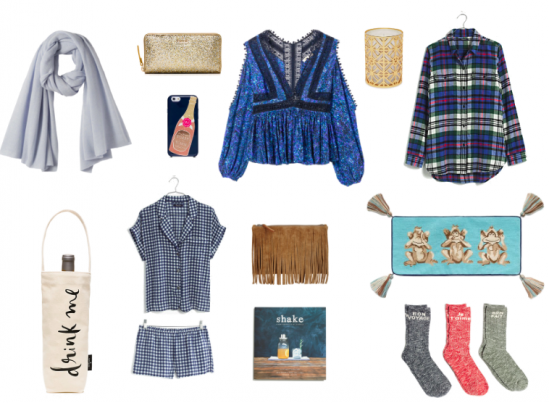 Rebecca Taylor White + Warren Cashmere Travel Wrap $298   /   Kate Spade New York Drink me Wine Tote $20   /   Kate Spade New York Glitter Bug Lacey $158   /   Kate Spade New York Champagne Bottle iPhone 6 Case $40   /   Madewell Silk Bedtime Top in Gingham Check $69.50   /   Rebecca Taylor Long Sleeve Block Lace Top $450   /   Velvet By Graham & Spencer Sofie Fringe Suede Clutch $169   /   Madewell Shake: A New Perspective on Cocktails $25   /   Tory Burch Holiday Candle $68   /   Madewell Flannel Ex-Boyfriend Shirt in Parchment Plaid $82   /   Tory Burch Monkey See Needlepoint Pillow $195   /   Madewell Three pack Word Trouser Socks $29.50