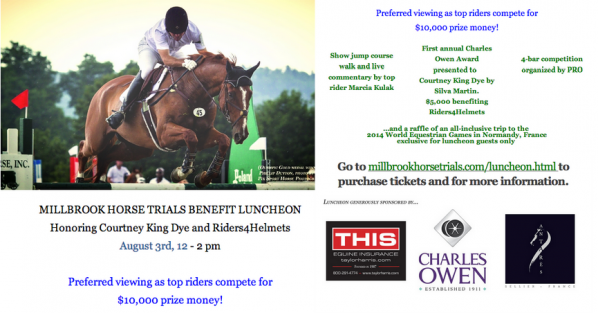 Another wonderful event in the Millbrook countryside is the Millbrook Horse Trials.  This year's event brings more excitement to the Equestrian community, with the presentation of awards to Courtney King Dye and Riders4Helmets.  Expertly chaired by our friends, Gloria Callen, Phoebe Campbell, and Caroline Merison, the culmination of this exciting three day event is the Millbook Horse Trials Benefit Luncheon where top rider compete for $10,000 prize money.  With ringside seating for the Luncheon, comes with a walking tour of the course with Olympic competitor, Boyd Martin and a visit from top riders.   The increasingly popular MHT draws enormous numbers of competitors and supports teams from all over the east coast. Advanced riders competed for prize dollars and a chance to impress the USEF Olympic Selection Committee.
While we have done tons of posts about what to wear to Equestrian Events, Fitch's Corner, Polo Lunches, and so on, we thought it would be fun to replicate what the riders wear.  Each of the fashion items picture are "must-haves" for a classic and timeless wardrobe.  The Ralph Lauren jodhpur are so fashionable and flexible to wear with boots tucked in or out.    Theory's blazer comes in blue, black and charcoal and it the answer to an up-to-date jacket, pinched in at the waste to give you a trim silhouette, while the Theory crisp white shirt is a fashion mainstay.   Ditto the Tory Burch Boots that come in black and brown – an essential choice for everyone's closet.  We had a little fun with the Gucci Horse Bit Belt and the Tory Burch Horse Bag.   You don't have to be on the back of a horse to get that fabulously iconic look.
Dress Like a Rider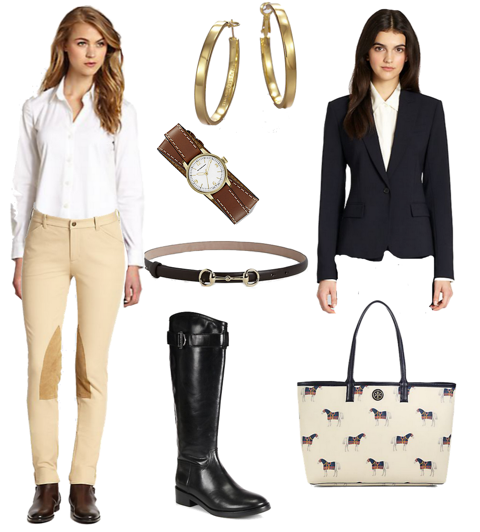 For more information and to purchase, please click on the links.   Theory Larissa Luxe Top $215   /    Ralph Lauren Blue Label Palermo Hudson Jodhpur $298   /    Kate Spade New York Square-Edged Hoop Earrings $68   /   Burberry Utilitarian Goldtone Stainless Steel & Leather Double- Wrap Watch $595    /    Gucci Horse Bit Leather Belt $285   /   Tory Burch Grace Leather Riding Boots $495   /   Theory Gabe Urban Jacket $395   /    Tory Burch Kerrington Horse-Print Shopper $295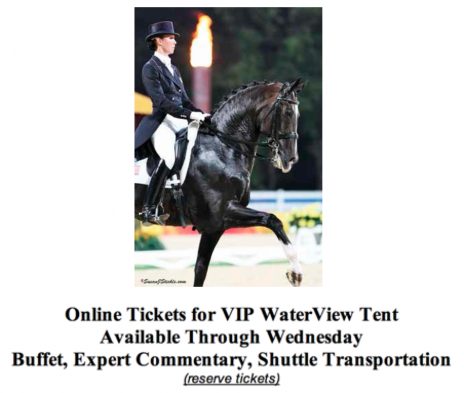 About Eventing from the United States Equestrian Federation
Eventing Competition includes one or more tests from the following branches of equitation: dressage, cross-country and jumping. The Federation of the USEA recognize three types of Eventing Competitions: Tests, Horse Trials, and Three-Day Events. The object of dressage is the development of the horse into  a happy athlete through harmonious education. As a result, it makes the horse calm, but also confident, thus achieving perfect understanding with the rider.
What to Wear for Eventing
DRESSAGE:  The dress code for Training through Fourth Levels is a short riding coat of conservative color, with tie, choker or stock tie, white breeches or jodhpurs, boots, or Jodhpur boots, and protective headgear. Gloves of conservative color are recommended. 
CROSS COUNTRY:   A body protecting vest must be warn warming-up for and in the cross-country test. For the cross-country test light-weight clothing is appropriate.   A shirt with sleeves must be worn.  Protective Headgear, any color.  Britches or jodhpurs may be any color.  Gloves, if worn, may be any color.  Boots are black or brown.  
JUMPING:  For the jumping test, a hunting dress of uniform with protective headgear is to be worn. Hat covers other that solid black or dark blue are not allowed.  Coat must be in a dark color, while a shirt must be worn with a pin, chocker, or tie.  Gloves, if worn, dark color, tan, beige or white.  Jodhpurs or Britches must be light color or white, and boots brown or black.