It's here, it's here!  We relish the excitement of Mercedes Benz Fashion Week Fall Winter 2014 as a dizzying, somewhat dyslexic time, when we bundle up in our winter's wool and fur, while bustling by the boutiques on Madison and Fifth Avenue, brimming with the bright fashions of early spring and resort, simultaneously scurrying to survey the styles sashaying the runways for next fall. It can give a girl a fashion identity crisis!  Our angle for these weeks of watching well heeled women running through the plaza at Lincoln Center is to report on what trends we spotted, coming and going.  And we look forward to bringing you our picks next week.     For everything you need to know, schedules, live streaming, designer profiles, visit Mercedes-Benz Fashion Week. 
So for what to wear, we keep it simple with a dress that can go from day to night in style.  Feel in love with Michael Kors Stretch Wool Sheath for the perfect combination of shape, color blocking and fabric, available at NET-A-PORTER.   Then kept shopping, finding more that would totally fit our fashion needs.   This color scheme of white, black and tan is a perfect one for wearing right now and transitioning right into spring.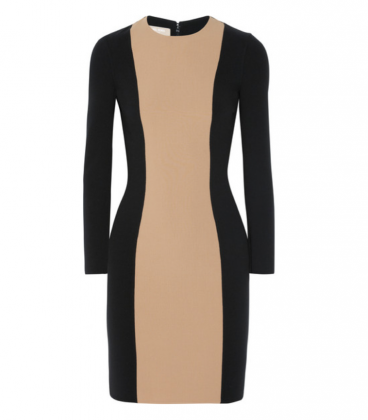 Michael Kors Color-Block Stretch-Wool Dress $1750
And then we found so many others, that we admired as well. 
Victoria, Victoria Beckham Color-Block Crepe Dress $800   /   Reed Krakoff Color-Block Scuba-Jersey Dress $1490   /   Tibi Anson Color-Block Crepe Dress $375
J.Crew Collection Satin-Trimmed Bouclé-Tweed Mini Dress $595   /   Diane Von Furstenberg Gail Stretch-Crepe Mini Dress $465   /   J.Crew Stretch-Jersey Dress $150