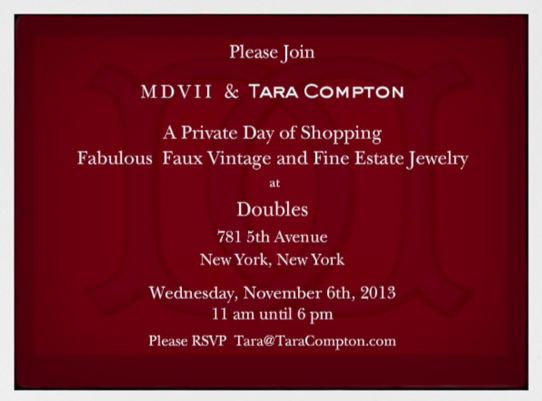 Join MDVII & Tara Compton at Doubles for a private day of shopping.  Fabulous Faux Vintage and Fine Estate Jewelry. Wednesday, Nov 6th, 2013 781 5th Avenue 11 am until 6pm.

Tara Compton Fine & Estate Jewelry is a highly curated collection of rare and exceptional pieces   Tara's assemblage of Estate and Estate Signed Jewelry includes vintage Dior, Bulgari, Cartier and David Webb, just to name a few. Each piece has been carefully examined for provenance and authenticity.  In regards to Fine Jewelry, Tara has carefully compiled a collection from emerging designers that was meticulously chosen and aesthetically pleasing to the eye. These pieces complement the Estate collections well. Tara always keeps an eye out for the edgy, yet timeless, fine jewelry designers.  Tara's jewelry has appeared in various major media publications, including Elle Magazine and Women's Wear Daily.
MDVII is the country's premier source for Haute Couture costume jewelry from Chanel, Lanvin, Yves St Laurent and practically every name in the business. Operated by Susie Hoimes in the Russian Hill District of San Francisco, MDVII is a hidden treasure in the city.   MDVII is rated as one of the top 10 jewelry stores in the country by Vogue Magazine.