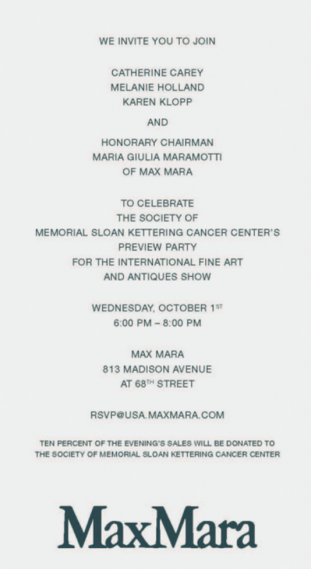 The invitation says it all.  PLEASE JOIN US ON WEDNESDAY NIGHT to celebrate Max Mara's generous sponsorship of The Society Memorial Sloan Kettering Cancer Center's Preview Party for the International Fine Art and Antique Show.  What could be better than shopping with a cocktail for a great cause?  We hope to see you there.   Don't forget to RSVP!
No one does tailored luxury better that the iconic line created by Achille Maramotti, whose desire was to produce high-quality manufactured women's clothing.  This was a somewhat avant-garde idea in the Italy of the time, where fashion was still an exclusively hand-crafted activity.  Now his grandaughter  Maria Giulia Maramotti follows in his footsteps.  She will join us on Wednesday for our stylish soiree.  Maria will also join our International Design Chair, Dee Dee Taylor Eustace to celebrate the grand reopening of Max Mara in Toronto. 
What to wear to a fab boutique party on Madison?   Why a Little Black (or Grey) Dress, of course!   Now a days, every day seems chock a block with activities, work, school meetings, organization meeting, and on and on.  We put together a look that Max Mara does so well . . . a truly fabulous and functional style that fits our busy pace, from morning 'til night.  You simply zip into one of these chic sheaths, grab your coat, and go about your day looking perfectly pulled together.
Morning Meeting, Working Lunch at le Bilbouquet, Cocktails at Max Mara.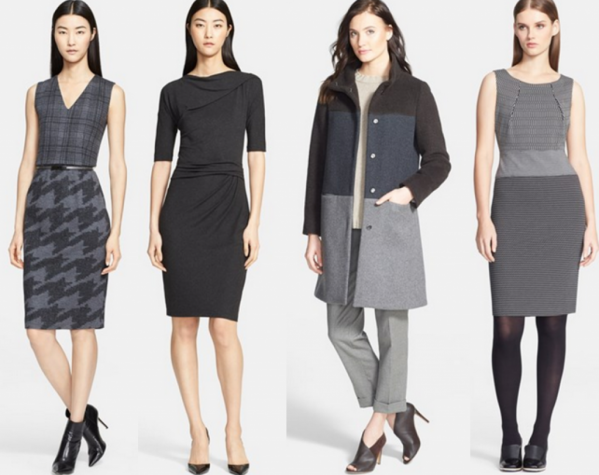 For information and to purchase, please click on the links:   Max Mara Wool Sheath Dress $835  /  Elbow Sleeve Jersey Dress  $675   /   Anima Colorblocked Coat $795  /  Sienna Color Blocked Sheath  $695  
Thanks to Max Mara for the Wonderful Cocktail Party in the Madison Avenue Boutique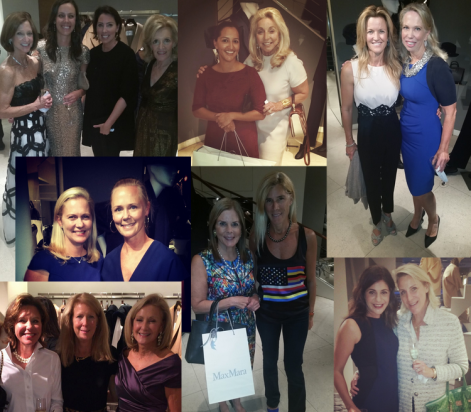 More Science, Less Fear.  Memorial Sloan Kettering Cancer Center