We asked Leslie Johnson whats on her Top 10 Holiday Wish List this year and as a W2WW Fashion Editor and co-designer of fashion label Josephine & Laurentina, we know you all will be checking this list twice!  Leslie went for practical yet decadent picks from a crystal-detailed LBD to super-soft Italian cashmere.  Leslie started off her list updating her winter wardrobe with a Paul & Joe black cocktail dress, which looks especially modern when paired with these ever trendy Brian Atwood over-the-knee boots, a pair of Marc Jacobs aviators and a Josephine & Laurentina turtleneck paired with fur cuffs.  Yet Leslie also kept to the classics with a vintage Cartier tank watch from the 70s, a Reed Krakoff shoulder bag, silk pajamas and  gold-statement jewelry such as this Philippe Audibert cuff and Scott Wilson necklace.
Have your own wish list to submit?  Let us play Santa, if you see something on the site (or anywhere else) that you like, send us an email and we will send your selections to your significant others and family members in a "Message from Santa's Helper" email.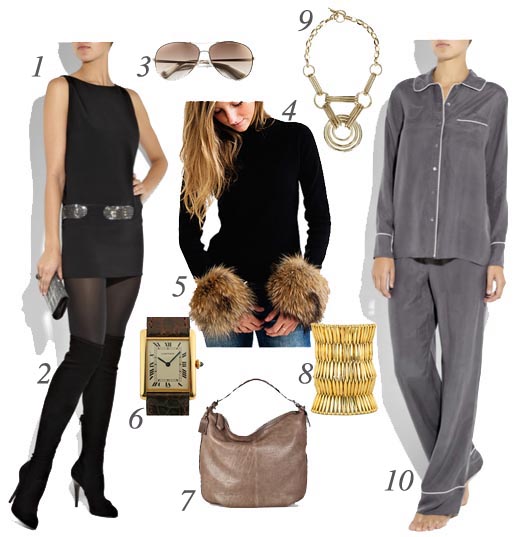 1.  Paul & Joe Crystal-Embellished Dress ($1,345), 2. Brian Atwood Over-The-Knee Boots (on SALE $1,091), 3. Marc Jacob's Aviator Sunglasses ($98), 4. Josephine & Laurentina Lucy Turtleneck (POA), 5.  Josephine & Laurentina Annie Fur Cuffs (POA), 6. Cartier Classic Tank Watch from 1970s (POA), 7. Reed Krakoff Motorcross Cadet Bag ($990), 8. Philippe Audibert Cuff ($565), 9. Scott Wilson Drop Chain Necklace (on SALE $186.19), 10. J.Crew Silk Pajamas ($88)
Remember when you click through our site to shop, we donate 25% of our profit to charities; this month, we are helping children through foundations such as New Yorkers for Children.