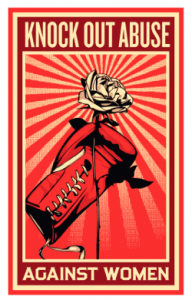 Our friend and force-of-nature Sarah Guinan Nixon is chairing a major Washington DC fundraiser, Knock Out Abuse Against Women – the Ultimate Girls Night Out! This years fabulous fete is honoring Agnes Nixon, Emmy Award Winning, Daytime Television Pioneer and Leslie Morgan Steiner, Author, Crazy Love. 17 years ago, Cheryl Davis Masri and Jill Sorenson founded this event which has become legendary in the political capital for raising millions of dollars to restore dignity and respect to thousands of victims of domentic violence. For information for the event and organization, Knock Out Abuse Against Women, please contact Ellen Blankenstein t. 202.725.5604. We went to SAKS.com and picked two of our favorite, festive dresses of the season for Sarah. The first is a classic DVF wrap with bursts of chiffon at the sleeves and the other is a Jean Paul Gautier off-one-shoulder stunning, shawl collar wrap. For the "knock-out" effect, we added a punch of red and silver to the mix. To further support the organization, please buy this Knock Out Abuse Hamsa Bracelet.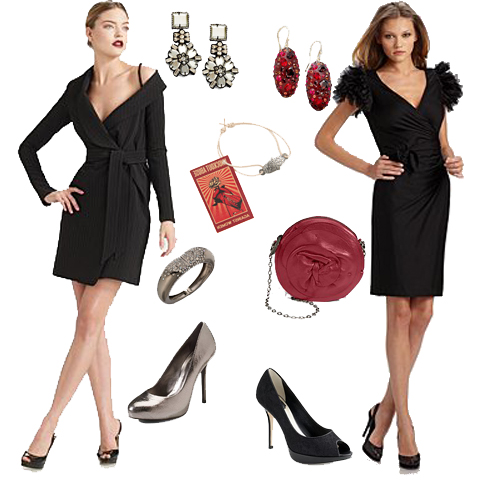 Left to Right: Jean Paul Gaultier One Shoulder Coatdress($1685), Ranjana Khan Mirroed Flower Drop Earrings ($375), Alexis Bittar Ruby Dust Crystal Pave Marquis Earrings ($250), DVF Belauh Dress ($525), Knockout Abuse Hamsa Bracelet ($18), Alexis Bittar Crystal Encrusted Creviche Hinge Bracelet ($250), Valentino Petale Chain Strap Leather Mini Bag ($325), Tory Burch Jenna Metallic Leather Pumps ($325), Dior Miss Dior Lace Peep-Toe Pumps ($590)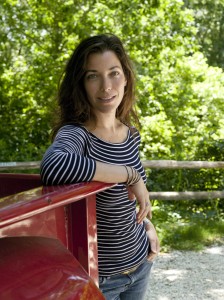 Sarah Guinan Nixon. When you grow up in a homeless shelter and there are 50 people for dinner and the only phone in your house takes quarters and when your after dinner activity is helping your parents prep breakfast for 700 of the hungry homeless, it's going to shape your world view. The place was the Community for Creative Non-Violence (CCNV) founded by her father, Ed Guinan in 1970. Over the course of the next two decades Sarah would help her social activist parents Kathleen and Ed as they opened one community center after another. Fortunately, Sarah's early full immersion in community service did not dissuade but engendered a lifelong commitment to the underesourced.
Sarah volunteers on behalf of children, youth and families through her efforts with The Earth Conservation Corps, The Washington Ballet, YMCA of Martha's Vineyard, Wings Over America, The Pearl Coalition and American Heroes Saltwater Challenge. With a smile, ready sense of humor and a big heart, Sarah is always there to lend a helping hand. She is committed to service and to making her community and the world at large a better place.
But…Sarah gets the MOST JOY from the daily reality show she is producing with her with her Emmy Award winning husband and life-long environmentalist, Bob Nixon. It stars her three amazing children, Bobby 14, Mary Agnes 12, and Jack 9.