The New Year is the perfect time to start a healthy new skin care routine.  Our totally cool California friend, Michelle Taylor introduced us to Kate Somerville products, and we are hooked.  On Wednesday, January 16th, don't miss the opportunity to meet Kate and celebrate her renowned skincare collection at Bergdorf Goodman.  From 4 to 6pm on the Beauty Level, Kate will be giving consultations, followed by a Champagne Toast from 6-7 pm. To reserve a complimentary DermalQuench Oxygen and Hydrating Treatment, call 212.872.8842, and to RSVP for the Champagne Toast Event, email RSVP@KateSomerville.com.
Kate has a gift of skin healing and gives great advice for how to look younger and have more perfect skin . . . Without surgery!  We have been using Kate's most technologically advanced moisturizer, KateCeuticals Multi-Active Repair Cream™, and an amazing exfoliator called ExfoliKate™ – the effect is notably clearer and smoother skin.  The nice thing about the website is that it is specific to your personal skin solutions.   You can either go to Kate's Online Clinic for a Skin Consultation or you can talk to a Skin Health Expert at 1-800-984-KATE.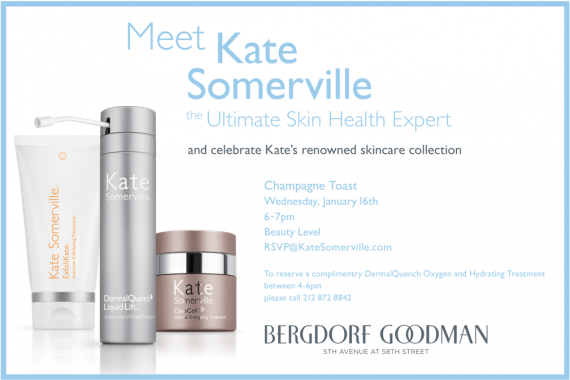 This is a new product that we are going to use.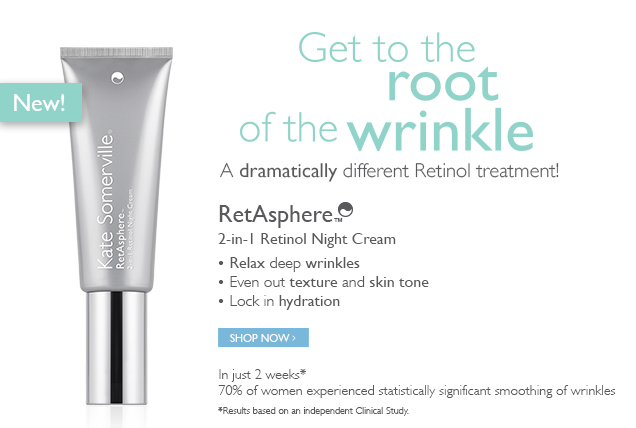 Kate Somerville is the Founder of the renowned Skin Health Experts Clinic and author of Complexion Perfection!™, which has made her one of the most notable names in skincare science for more than 20 years.