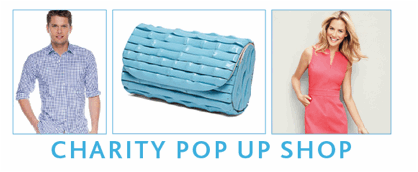 Thursday, February 20th through Sunday, February 23rd,  J.McLaughlin , the classic American clothier, announces an exclusive Pop-Up Shop at The Society Boutique- The MSK Thrift Shop to support The Society of Memorial Sloan Kettering Cancer Center's leading-edge patient care, education, and research programs. Filled to the brim with J.McLaughlin's iconic pastels, prints, and must-have accessories, this is a not-to-be-missed shopping event just in time for resort and spring styles.  Hours are 10am to 6pm, Sunday 12pm to 4pm.
For four days only, from Thursday, February 20th to Sunday, February 23rd, The Society Boutique on the Upper East Side at 1440 Third Avenue, between 81st and 82nd Streets,  will be transformed into a preppy-chic oasis filled with J.McLaughlin's distinctive clothing and accessories for women and men at 30% to 60% off. J.McLaughlin will contribute 30% of all sales at this event to The Society of MSK.
The Pop-Up Shop marks J.McLaughlin's first collaboration with The Society and its Boutique, which has been a fixture on the Upper East Side for more than 25 years and plays an integral role in The Society's fundraising programs.
The Society Boutique The MSK Thrift Shop  1440 Third Avenue, between 81st and 82nd Streets,  212. 535.1250