"This is reading as alluring as the best French perfume."  André Leon Talley, Editor At Large, Vogue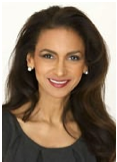 One of our favorite summer reads is the impossible to put down Imperfect Bliss, written by our always fashionable friend Susan Fales-Hill.  The book is a wickedly funny take on the ways that courtship and love have changed – even as they've stayed the same.  Meet the Harcourts of Chevy Chase, Maryland. A respectable middle-class, middle-age, mixed-race couple, Harold and Forsythia have four eminently marriageable daughters – or so their mother believes. Forsythia named her girls after Windsor royals in the hopes that one day each would find her true prince. We will not divulge if Prince Charming appears, but we can tell you,  it is a positively royal read. 

Please join Jay McLaughlin, Kevin McLaughlin and Steve Siegler in Southampton to celebrate Imperfect Bliss at the J. McLaughlin store in Southampton.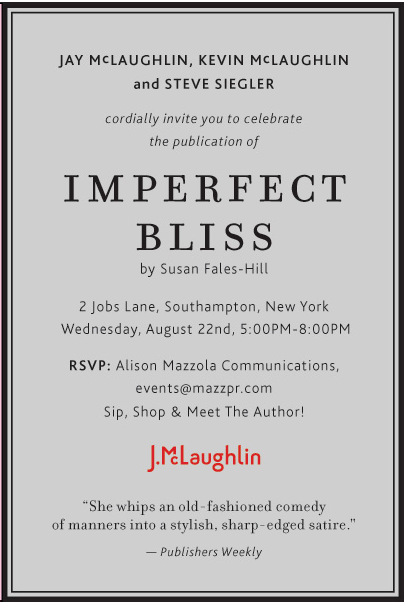 Susan Fales was born in Rome, Italy and raised in New York City. After graduating from Harvard College in 1985, she began her writing career in television, writing for shows that included the "Cosby Show," "A Different World," which was nominated under her direction for the prestigious Humanitas Award. In 1998 Susan co-created with Tim Reid the Showtime original series "Linc's" and served as its Executive Producer/Head Writer. Susan is the recipient of the Producer's Guild of America's Nova award, a "Special Recognition Award" from the Friends of the Black Emmys, and the Excellence and Heritage Award from Dillard University. Susan is a contributor to  Town & Country, Vogue, Glamour, American Heritage, Ebony, Essence, Avenue, and Travel and Leisure. In 2003, Susan published Always Wear Joy, a critically acclaimed memoir about her mother, the late actress/singer/dancer, Josephine Premice.  Susan serves on the boards of the Studio Museum of Harlem, and American Ballet Theatre. In 2001, she was named to the International Best Dressed List Hall of Fame.  She currently lives in New York with her husband and their daughter.
Enjoy reading Susan's other novels, One Flight Up and Always Wear Joy.