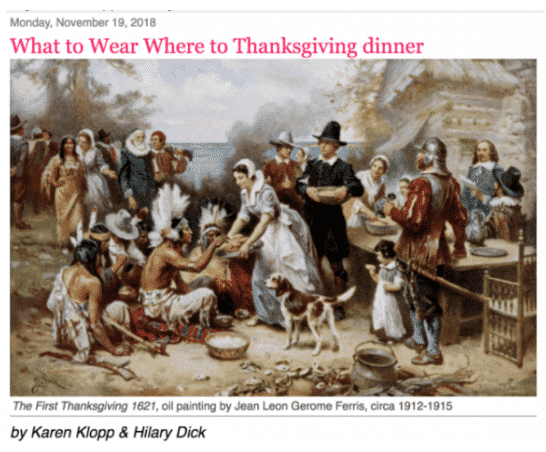 "The First Thanksgiving 1621," oil painting by Jean Leon Gerome Ferris, circa 1912-1915
Thanksgiving seems to be everyone's favorite holiday and with good reason. No gifts, no decorating, at least not too much, just family, friends and tables groaning with seasonal fare, scrumptious leftovers, four glorious days, and tons and tons of fun. The origins of the holiday are rooted in peace, friendship, and reaching across cultural divides. And couldn't we all use a little of that recipe right now. Some of those in Washington would benefit from a long pull on the old Peace Pipe – inhalation recommended!
The first Thanksgiving on these shores was held in 1691. This celebration of the harvest held special significance to Mayflower Pilgrims after suffering unbearable hardship and loss during their first year at Plymouth Colony. The community lost 40 of the 102 original brave souls who ventured on to the primitive ship for a ghastly two month voyage. Upon arrival to the New Land, they experienced additional misfortune of a harsh northern New England landscape, instead of the more temperate climate of Virginia, which was their intended destination. Those who survived were aided by the American Natives who taught the settlers how to fish the shoals, plant successful crops and hunt for indigenous species. It is thought that as a sign of appreciation and friendship, 90 Wampanoags were invited to attend the harvest festival, three days of feasting and gamesmanship.
On October 3, 1789, President George Washington made a proclamation, "The Houses of Congress have by their joint Committee requested me to recommend to the People of the United States a day of public thanksgiving and prayer to be observed by acknowledging with grateful hearts the many signal favors of Almighty God especially by affording them an opportunity peaceably to establish a form of government for their safety and happiness." Sounds harmonious but . . . it was not without its conflicts in Congress, where some argued against the merits of mimicking the European model of harvest festivals.
It wasn't until 1863 that Thanksgiving became a federal holiday when President Abraham Lincoln proclaimed, "It has seemed to me fit and proper that they should be solemnly, reverently and gratefully acknowledged as with one heart and voice by the whole American people. I do therefore invite my fellow citizens in every part of the United States, and also those who are at sea and those who are sojourning in foreign lands, to set apart and observe the last Thursday of November next, as a day of Thanksgiving and Praise to our beneficent Father who dwelleth in the Heavens." And so the great American tradition was established. we asked some of our accomplished friends to share their personal traditions.
Elizabeth Mayhew is a regular contributor on the Today Show.
Elizabeth Mayhew, lifestyle expert and brand editor at Draper James, shares a tradition that I have had the great pleasure of enjoying.
Thanksgiving field assembles.
Darren Henault and his handsome steed
Madeline Mayhew continues the sherried tradition
Pam Taylor, KK and Nicole Miller follwoing on foot.
"When we bought our house in Millbrook, NY we inherited from the former owners the tradition of hosting the Thanksgiving Day fox hunt. It's now become our tradition to serve sherry and cookies to the riders and the many guests who come to see them off on Thanksgiving morning. It's become a festive event for the community whether there's sun or snow!" Elizabeth's knack for entertaining is legendary, and she is the best baker I know (sorry Martha), her dining table is a mosaic of pies, cookies and goodies. Welcome to Elizabeth's delicious world!
Elizabeth at the stove
A turkey tableau
Elizabeth's mirepoix for stuffing
I am serious, there is a supernatural power at work
Shirin Wulffen is another neighbor upstate, who along with her husband Frederic Fekkai, have relaunched a beloved twenty five year old essence brand based in Aix-en-Provence. Bastide celebrates the artisans and terroir of the area and any of its naturally fragrant products would make a superb hostess gift to bring to your dinner. Especially the gift sets.
Shirin and Frederic at home in Aix-en-Provence
En famille
Yes this is a hint – no candy or sweets please
"We usually just take it easy and spend time with family and enjoying the foliage. We do have an awesome turkey recipe from D'Artagnan with truffle butter that Frederic and I cook together. We have D'Artagnan ship us everything (small free-range turkey) and then we all make it together. You spread the truffle butter under the skin which gives the meat amazing moisture and taste." This sounds divine and a must-do for your culinary repertoire. You can find the recipe here.
I will be celebrating at our farm upstate, where many of the activities are outdoors, shooting, hiking, following the hunt, bonfires and the like. I put together this collection of mix and match pieces that can be worn in umteem ways. The basis of good country clothing is a pair of waterproof boots, hat and quilted jacket. I shopped my country palette of tones found in nature and had a blast putting these together. For the basics – J. Crew, scarves and belt – Hermes, and some of the outdoorsy items are from Orvis and Nordstrom. Thanksgiving Day will find us walking behind the Hunt and from the ground up will be boots, pants, sweater, silk scarf for a pop of color, either or/and vest, jacket, and wrap, depending on the temperature, topped with the hat. Later in the day, I will put on the feminine pleated skirt and tie front sweater with pumps to sit down to enjoy the feast. The rest of the separates will be mixed and matched all weekend for leftover dinners, and lunches with friends and long digestif walks.
Mix and Match, Let me Count the Ways
tops: JCrew Cashmere Sweater $98 / J Crew Leopard Print Shirt $85 / J Crew Tie–Neck Button-Up $79.50 outerwear: Barbour Cavalry Quilted Jacket $279 / Barbour Cavalry Quilted Vest $179 bottoms: J. Crew Camel Hair Skirt $575 / J Crew Pleated Leopard Midi Skirt $189 accessories: Rag & Bone Zoe Wool Fedora $225 / J Crew Seaside Round Cateye $65 / Hermes Jaguar Quetzal Scarf $395 / Hermes New Libris Stole $940 / J.Crew Pave Resin Earrings $34.50 / J Crew Tortoise Necklace $128 shoes: Le Chameau Leather Lined Boots $489
/ J Crew Ankle Boots In Suede $178 / J CrewSuede Pumps SALE$176
Nicole and Hilary at a Society Memorial Sloan Kettering Cancer Center Event.
For this holiday, Hilary will be traveling down to Palm Beach with her family. We asked her mother, savvy hostess Nicole Limbocker for her favorite gobble day tradition. "As a matter of fact, we have a "new" tradition – running the Turkey Trot all together with the family. It is such a wonderful way to start the day, then home to cook my traditional Thanksgiving meal and to give thanks for our many blessings. Everyone loves my stuffing which includes Pepperidge Farm Stuffing Mix, an egg, a combination of water & chicken broth or chicken bullion cube, chopped parsley, celery, onion, and a healthy bit of Bell's Seasoning." Inside the bird or baked on the side, you decide.
Family Selfie
Nicole & Derek Limbocker
My parents moved to Florida a few years ago and since then we have all headed south for Thanksgiving. It is definitely different to celebrate the holiday among the palm trees and sea breezes but taking a swim on Turkey day certainly is a treat! Last year we all ran/walked in the annual Town of Palm Beach United Way Turkey Trot. It is a 5K race that raises funds to provide Thanksgiving meals to Palm Beach County residents. And this year we are doing it again, adding a new tradition to our Thanksgiving. With that behind us we all feel ready to dive into a delicious turkey meal. My favorite part being the stuffing my Mother makes. And even though I will be in Florida, I too like to keep my clothing palate in the autumnal tones. But white jeans are still a must no matter the time of year and of course a new suit or two.
`
dresses: LoveShackFancy Silk-Blend Chiffon Maxi Dress $595 / Faithfull The Brand Floral-Print Mini Dress $150 / Faithfull The Brand Maya Floral-Print Midi Dress $220 tops: Orseund Iris Night Out Satin Blouse $540 / Ganni Ruffled Silk-Satin Wrap Top $350 bottoms: Re/Done Originals High-Rise Ankle Crop Frayed Skinny Jeans $195 / Frame Le Cutoff Denim Shorts $180 swimwear: Ganni Ruffle Leopard-Print Halterneck $160 / Sea Aurora Ruffle-Trimmed Floral-Print $325 accessories: Fendi Cat-Eye Tortoiseshell Acetate Sunglasses $360 / Cult Gala Luna Bamboo Shoulder Bag $220 shoes: Loeffler Randall Penny Bow-Detailed Plissé-Lamé Mules $395
We wish all of our friends and families a wonderful, thankful holiday. In closing, we return to Abraham Lincoln for guidance. In the midst the country's bloody and divisive American Civil War, he believed that the setting aside a day of gramercy would comfort the country's ravenous wounds of war. It is interesting to note how intently religious beliefs played into our early government institutions. ". . . And fervently implore the interposition of the Almighty Hand to heal the wounds of the nation and to restore it as soon as may be consistent with the Divine purposes to the full enjoyment of peace, harmony, tranquility and Union." To that, we say Amen. Let's all bow our heads around the table and pray for our great country and the men and women integral to our freedom and democracy.
Home for Thanksgiving Norman Rockwell, Saturday Evening Post 1948