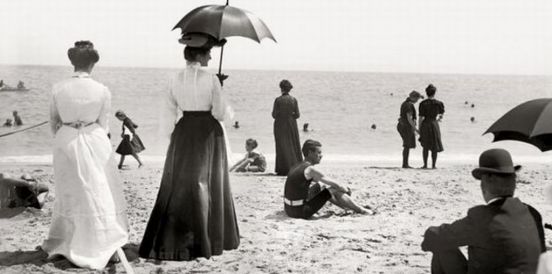 At first I wasn't a big fan of long dresses.   Having gone through the "granny dress" phase a long time ago, I did not want to revisit those bygone days of love and peace, not that I don't believe in the concepts.  And not being terribly tall, I  thought that my frame would be overwhelmed by yards of fabric.  I am happy to say that I was wrong.  Long dresses are indeed feminine and flattering to almost every body type.  They can be dressed down, to go to the beach  and shopping around town or dressed up to go to cocktails and dinner.
How to wear a Maxi dress.
1.  Make sure you choose a style that flatters your body type.  Halter creates curves, strapless minimizes.
2.   Hem the dress so it hits right above the ankle.  It eliminates the dowdy look.
3.    Wear with a pair of Platform Wedges  for a bit more height and a taller silhouette.
4. Statement jewelry  is the natural accessory to a maxi.  The impact of big earring or necklace is a balance for the length.
5.   Carry a Summer Tote  for day, and a  Cool Clutch for evening.

We shopped at Bloomingdales, to find a brilliant assortment of flowing frocks to take you through the summer in style.
Island Blues
For more information and to purchase, please click on the links.   Red Haute Maxi Dress Empire Tie Dye $135.80   /   MILLY Maxi Dress Cellophane Print Bias $425   /   Tracey Reese Maxi Dress Sleeveless $428   /   Twelfth Street by Cynthia Vincent Maxi Dress Braided Tie Dye $298
 Bright Whites
Click on the links for more information and to purchase.  GUESS Maxi Dress Embroidered Lace $118   /   Lauren Ralph Lauren Gown Boat Neck Sleeveless $115.50   /   MICHAEL Michael Kors Sleeveless Eyelet Maxi Dress $79.62   /   AQUA Gown Grecian Pleated Blouson $258
Eastern Seaboard
Velvet by Graham & Spencer Maxi Dress Tippie Tie Dye $158   /   BCBGMAXAZRIA Gown Starr Halter Chiffon Print $368   /   MICHAEL Michael Kors Scalloped Tie-Dye Dress $68.25   /   Trina Turk Maxi Dress Lane High Neck Zebra Jersey $368
Pink Sandy Beaches
Needle & Thread Maxi Dress Constellation $350   /   Red Haute Dress Tie Dye $180   /   Red Haute Maxi Dress Shirred Tie Dye $132   /   Alice & Trixie Maxi Dress Valeria Strapless Silk Print $385