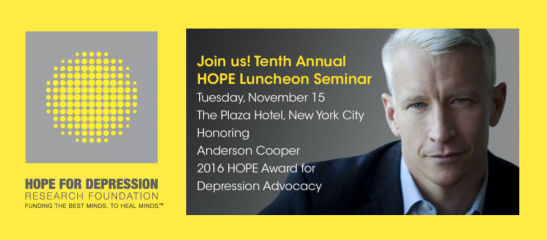 The 10th Annual HOPE Luncheon Seminar will be held at The Plaza on Tuesday, November 15 and will be honoring Anderson Cooper..  HDRF was founded in April 2006 by the indomitable Audrey Gruss in memory of her mother Hope who suffered from clinical depression.  "When she passed away in December 2005, I vowed that I would do all in my power to help conquer this dreaded illness.  I soon discovered the staggering reality that in the twenty-five years since the introduction of Prozac and the other SSRI antidepressants, there has been virtually no change in the basic treatment of depression, just adjustments in the use of existing approaches."     The generous and gracious event Co-Chairs: Caroline Dean, Arthur Dunnam, Bonnie Pfeifer Evans, Peter Gregory, Susan Gutfreund, Tania Higgins, Eleanora Kennedy, Margo Langenberg, Jay McInerney and Farah Moinian are assuring a great success.   Every dollar raised goes directly to research.   For information, please go to Hope for Depression Luncheon.
For what to wear to a charity luncheon in November, we turned to our favorite shade for this month, grey. The inspiration was the clever juxtaposition of the colors on the invitation, the bright shade of yellow offering hope and optimism to this serious and complicated challenge.  The grey of the dress such a versatile neutral-tone on its own,  or  as a backdrop to a pop of color, like this Mustard Wool Trench Coat.  It comes in a variety of colors, and we are in love with the "Moto" details.   We continued to shop at  J.Crew to assemble the rest of this ensemble to wear when you want to looked totally pulled together, all day long.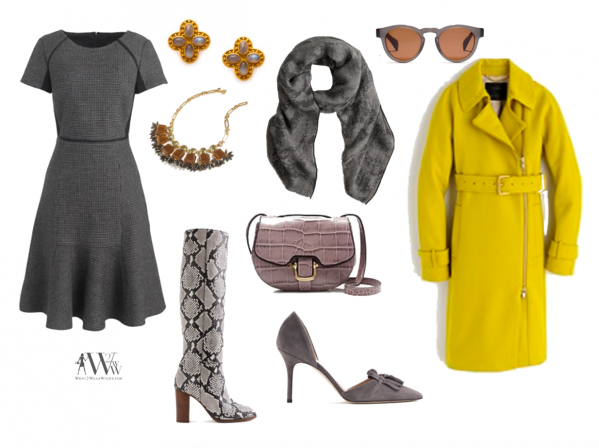 Check for an extra 30% off with the Code SHOPNOW.   
click on the links:  Checkered Flutter Dress $128  /  Belted Wool Trench $398  /  Julie Vos Floral Clip $128  /  Mixed Crystal Necklace $88 /  Jacquared Scarf $59  / Jane Sunglasses $128  /  Mini Ryder Italian Leather Purse $148  /  Snakeskin Print High Boots $358  /  Fringe Suede d'Orsay Pumps $260 SALE
Photos from Hope for Depression Luncheon 2015