This week on Shop the Street Style, W2WW Fashion Editor, Hilary Dick, and Karen Klopp hit the Meatpacking District to check out the new flagship store HONOR and got a chance to explore Giovanna Randall's utterly exquisite new fashion line. The boutique itself is a decadent treat designed by Jesse James of  Aesthetic Movement channeling old school Hollywood and specifically the iconic style of Grace Kelly.  Not one detail has been over-looked. One finds surprises in each corner, one of our favorite mise-en-scene displays involved an inlaid leather art deco desk with a typewriter, complete with a typed love-letter beginning with the words, "Dear Charles". Designer Giovanna Randall said, "Being a good designer or even a great designer isn't enough.  You have to design the whole company." The whole HONOR experience is one not to be missed from the pearlesque opaline walls to the blush pink velvet dressing rooms, the vintage book-filled library, beautiful Bone China by Jasper Conran and even silver pots of hand-crafted Bellocq tea. Everything we tried on we swooned over.  HONOR is located at 68 Gansevoort Street and we highly recommend stopping by… time seems to slip by there without you even noticing.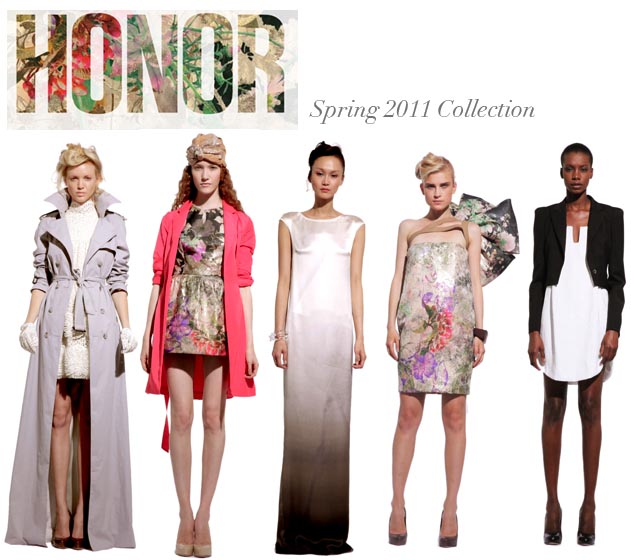 HONOR NYC SPRING/SUMMER 2011 from Rachel Fleit on Vimeo.
W2WW's music is provided by The Million Dollar Deli– sign-up for their monthly Mixtape.
Associate Producer and Editor Lara Glaister of What2WearWhere.com