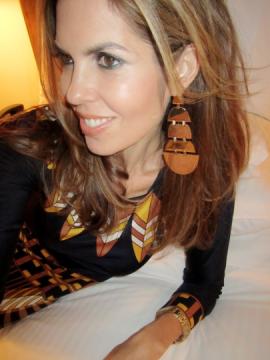 Our friend and Fashion Reporter Jennifer Press caught up this week with Honor Brodie, Creative Director of Tory Burch.   As our readers know well, Tory Burch is high on our list of Classic American designers who season after season refine and reinvent the classics to create beautiful, wearable fashion for today's multi-tasking women.  As Creative Director at Tory Burch, Honor is responsible for creating the online ethos of the brand.  Honor brings a unique background and impeccable style to Tory as a former Editor at InStyle and prior to that, at Vanity Fair. In her former role as Editor-in-Chief of the Tory Burch Blog, Honor used her print experience to create the inspirational online home at ToryBurch.com, one of the most successful and iconic destinations on the web.  It creatively and whimsically combines style, culture, travel, and music for a unique, multi-dimensional online magazine experience.
Jennifer Press: What are your must haves from Tory Burch this Fall?
Honor Brodie: Ethel cotton tulle dress in malachite, a resin framed bag and the kissing fox belt!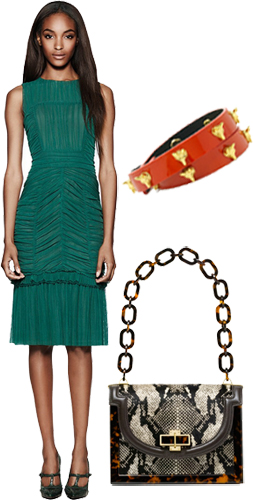 Ethel Tulle Dress ($795)     Snake Small Resin Bag ($695)     Kissing Fox Belt ($150)
JP: Three accessories you can't live without?
HB: Tory Burch Suede 797 satchel in pine, square-frame tortoiseshell sunglasses and  a bright and beautiful  fuchsia wallet.
Suede and Leather Satchel ($795)    Vintage Square Sunglasses ($165)   Zip Continental Wallet ($195)
JP: What's your "go to" look for work?
HB: Tapered pants or pencil skirt with silk shirt, gold pendant necklace and high heels.
Bow Blouse ($295) Monogram Pendent ($175) Patent Leather Pump ($375) Rosemary Pants ($250
JP: What's your perfect weekend look?
HB: Grey skinny corduroys, camel cashmere sweater and gold slippers. Unless my daughter wants me to match Hello Kitty, in which case I'm in pink from head to toe.
Madeline Peplum Sweater ($275)    Quilted Blatte Flat ($265)    Ivy Super Skinny Jeans ($195)
JP: What do you love most about your job with Tory?
HB: Every day it's an adrenaline-fueled mix of editing text, curating images and creating content for the brand across all mediums. The mood is entrepreneurial and there is no one that I work with that I wouldn't want to have dinner with.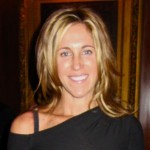 Jennifer Press grew up in NYC. She began her career at Adrienne Vittadini and Vogue. She has been a stylist, radio co-host and TV fashion reporter for ABC News NOW. She has also been a fashion/lifestyle writer for several online publications.
To download Tory's Playlist from the Spring 2013 Show, click below.