We have planned a wonderful day in the country to celebrate the holidays and have picked a warm and stylish outfit for the adventure. It includes Holiday Trunk Shows with unique gifts for everyone on your list, lunch at Stissing House, a cosy country inn and picking out your Christmas tree to be freshly cut on the spot. You will be traveling on the most beautiful roads in Duchess County, so we have included a map and instructions below to help you navigate. What a lovely way to do all of your Holiday Shopping in a relaxed atmosphere where you will be meeting wonderful artists and artisans who created the one-of-a-kind pieces like Alicia Adams of Alicia Adams Alpacas and Emilie Jean's collection of antique and vintage textiles and tribal jewelry.
To find out what to wear to keep warm when running around all day, we  went to Banana Republic for the base of our outfit and were thrilled to discover their 2 day special sale! Get 25% off your entire Banana Republic order or 30% off when you use your BR, Gap, or Old Navy card. Enter BREVENT at checkout. Hurry, offer ends 12/5.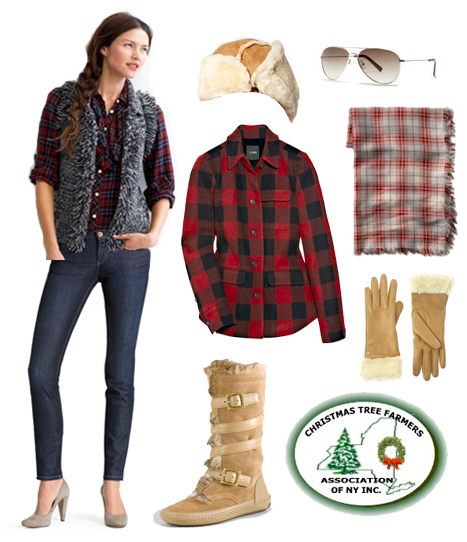 Banana Republic Fringed Vest ($89.50) and Skinny Jeans ($59.99), UGG Trapper Hat ($151.71), Banana Republic Shawn Sunglasses ($78) and Oversized Plaid Wrap ($79.50), Asos UGG leather gloves ($132. 92), Tory Burch Jaden Boot ($295), J. Crew Fleece-Lined Jacket ($200)

As the holiday season has officially started, you may need a break from the chaos of town. Check out these wonderful holiday events in Duchess County, NY this weekend.  We've even included a map and directions below to make your trip easier. From Holiday Shopping, to tree-cutting and scenic drives in between, follow our itinerary for what will be a truly memorable beginning to December and gifts for everyone on your list!
Stop #1. Stissing House: 7801 Main Street in Pine Plains, New York.
When: December 4th & 5th from 11am – 4pm.
Start off at our friends, Michel and Patricia Jean's Holiday Market at their restaurant Stissing House, featuring a variety of items ranging from personal and home accessories, jewelry, clothing, paintings and more.  Make sure you stop by Manic Trout and pick up a few pieces of jewelry for all of "life's manic moments!" Follow up your holiday shopping with a cozy lunch of soups, salads and fondue before hitting up your next shopping spree. For more information and a list of Holiday Market vendors, click on the below thumbnails.
Stop #2. Alexandra Kasmin: 1398 Route 83 in Shekomeko, New York.
When: December 4th & 5th from 11am-5pm; meet the artist December 4th 4-6pm.
Stop in at the old General Store in Shekomeko which has been brilliantly transformed into a chic antique and decorative art space by our great friend Alexandra Kasmin. She is holding two events next weekend featuring lovely accessories, scarves and wraps by Zaahna (a  percentage of your purchase will help to send Afghan children to school) and an exhibition by wonderful watercolorist Mita Corsini Bland, entitled "New Botanicals." Click on the thumbnails for more information.
Stop #3. Evergreen Farm: Evergreen Farm, 407 N. Towerhill Road, Millbrook, New York.
Here is the perfect solution to making everyone happy without spending the big bucks  in town on your Christmas tree. At Evergreen Farm, you can be a part of the wonderful "old fashioned" tradition of selecting and chopping down the tree yourself. Enjoy some old school holiday fun, get a bit of exercise and support your local farmer all in one go. Plus, we bet your friends will ask you what shade of Laura Mercier blush you used to get that gorgeous rosy cheeked glow.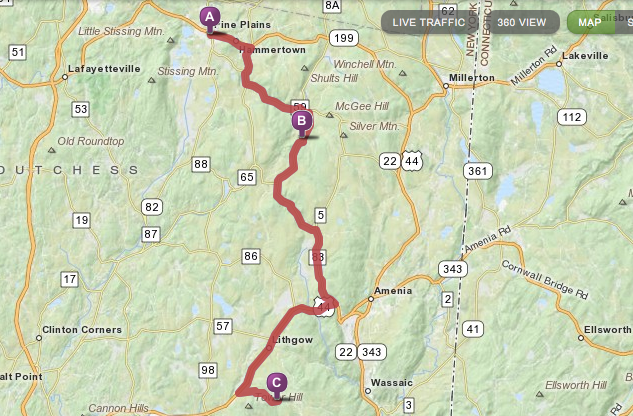 To make your life even a little easier, we Map Quested the three events so you should have no problem getting from A to C. Just click on the map to get started.  From the Taconic Parkway, take the Millbrook/Poughkeepsie Exit, turn right onto Route 44, turn left onto Route 82 and straight up to Stop #1 Stissing house.  It is at the intersection of 82 and 199.   To Stop #2  Alexandra Kasmin's turn right onto 82, turn left onto Route 83 and follow it around until you come to Shekomeko.  Continue on 83 South as it winds it's way through Smithfield Valley.  Turn right on Route 44 and follow the signs for the Tree Cutting, Stop #3.
Happy Holiday Shopping!