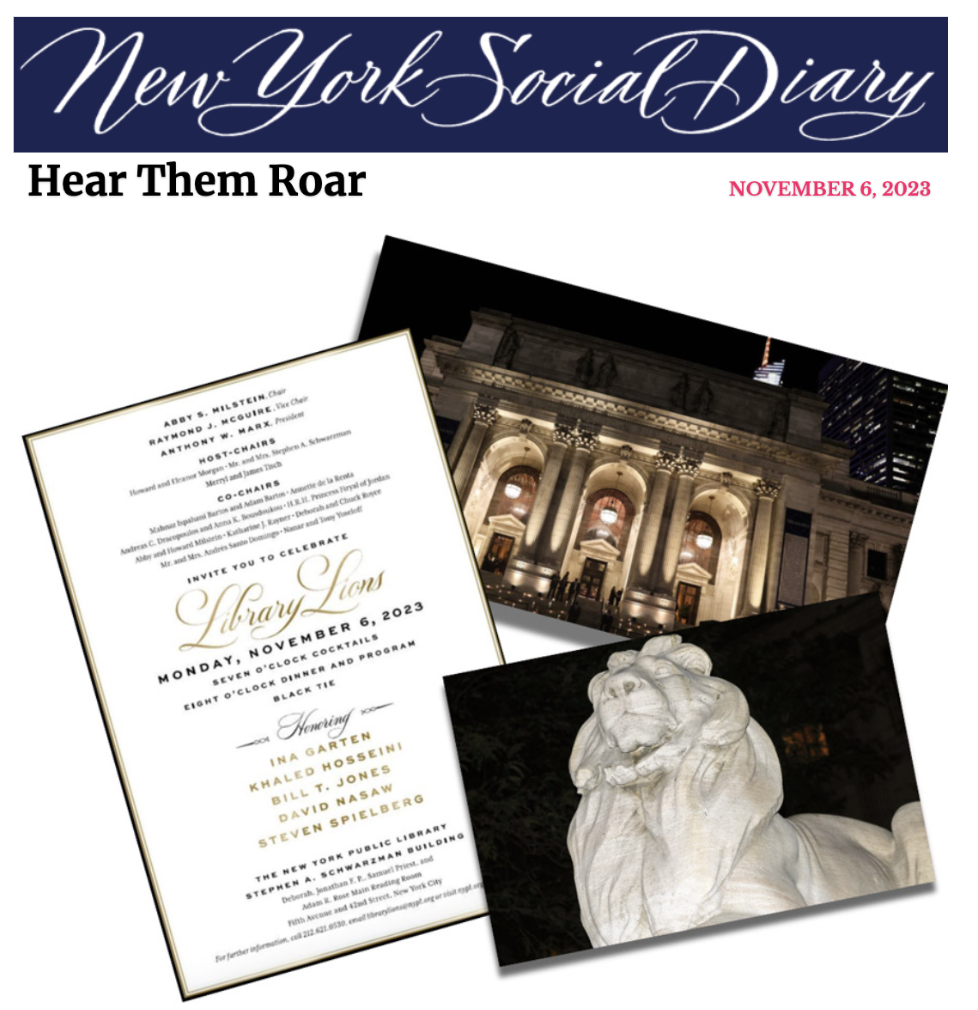 GUEST DIARY• BY: KAREN KLOPP AND HILARY DICK
November roars in as the New York Public Library's Annual Library Lions are honored tonight (November 6th) at the Annual Gala in the iconic Stephen A Schwarzman Building. This year's prestigious event will feature culinary entrepreneur Ina Garten, novelist and humanitarian Khaled Hosseini, acclaimed choreographer Bill T. Jones, author and historian David Nasaw, and film director Steven Spielberg.
---
---
Inducted for their brilliance and esteem in their respective fields, they join past Lions such as Nelson Mandela, Oprah Winfrey, Michael Bloomberg, Martin Scorsese, Maurice Sendak, Gloria Steinem, Norman Mailer, Jay McInerney and many more deserved recipients. For a complete list you can visit HERE.
---
---
New York Social Diary has been covering this august tradition for many years as the Who's Who of the city's essential philanthropic and social scene.
---
---
The New York Public Library system was the brainchild of one-time governor, Samuel J. Tilden, who bequeathed the bulk of his fortune, after his passing in 1886, to establish a free public library and reading room.
It would be 9 years later in 1895 when two major New York City libraries, the Astor Library, founded by John Jacob Astor, and the Lenox Library, founded by James Lenox, merged with the Tilden Foundation to start building the marvelous institution.
---
---
Constructed by Carrère and Hastings, the building has been hailed for its iconic Beaux-Arts design, and for being the largest marble structure attempted in the US.
---
---
Since 1911, the Library Lions have been perched on the North and South sides of the entrance to the Stephen A. Schwarzman Building, keeping watch over Fifth Avenue and all those who enter the magnificent structure. Astutely named Patience & Fortitude by Mayor Fiorello LaGuardia, they served as a beacon of hope and resilience during the great depression and their directive of strength and resilience continues today.
For our What to Wear to this significant event, we answered an often asked query, "When an event is Black Tie is it strictly a long-dress affair?" To that we say, "Nay," and went looking for fabulous frocks to prove the point.
There is nothing as attractive in this season as a LBLD, Little Black Lace Dress; and for those of you who ask for long sleeves, we have you covered. Sparkling accessories can elevate the look and be as festive as you like. This is the night to unlock your gorgeous jewels or invest in a pair of fabulous faux, like these from Adriana Orsini, a longtime taste and paste designer.
---
Little Black Lace Dresses
---
---
Hilary (pictured above!) is sparkling bright for the literary occasion. "I thought it would be fun to add some glitter and color to mix in with the ladies in lace. I like the idea of silvery tones in the Library. Short, long or midi, these pieces will shimmer in the candle light and add a festive feel to the night."
---
---
After dinner young cubs pounce on the den as The After Party will benefit the Young Lions Club — a membership based program of literature minded New Yorkers in their 20s and 30s who are dedicated to furthering the critical work of the NYPL.
---
---
In researching this article, we came across a delightful book that is available on Etsy. It was written in 2006 by Susan Larkin and traces the history and symbolism of the dynamic duo whose presence has captivated natives and visitors alike for generations.
---
---
Another moving tale about the NYC Public Library that we recommend is Fiona Davis' historical novel solving a mystery from the past by two generations of women.
---
---
And two other spectacularly written tales of libraries based on actual events are on our list. One tells the story of J. P. Morgan's personal librarian who harbors a threatening secret; the other an investigation into one of the most destructive library fires in America.
---
---
The New York Public Library is one of the grandest systems in the world which welcomes millions of visitors each year. From the inception the library has honored its mission, "To inspire lifelong learning, advance knowledge, and strengthen our communities."
The Lions yet stand guard against ignorance and as a steadfast symbol of the power of knowledge and truth.
---
---
Please consider supporting The New York Public Library.
---
Hilary Dick and Karen Klopp of What2WearWhere.com. We take the guesswork out of dressing, the legwork out of shopping, and the panic out of packing.©