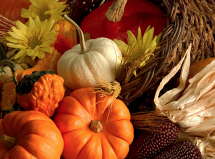 Dear Friends, Happy Thanksgiving to you. May the day be filled with everything good and wonderful. Thanksgiving is simply the best holiday of the year when family and friends gather together to relax without the stress and strain of "the holidays." So enjoy your time with loved ones now. Next week, life will swing into high gear with the Holiday Season rolling down the tracks!
We generally don't get too excited by Black Friday preferring to shop online in our comfy clothes eating a turkey sandwich, rather than fight the crowds in the stores and boutiques. Literally every retail establishment has amazing sales online. Our advice is to stick to the stylish sites that you know and love, and that make returning items easy. Please remember when you click through our site to shop, a portion of our commission from sales will be donated to our Charity of the Month. For November, we are proud to feature Boys' Club New York, and then in December, we will partner with our long-time friends at Help USA.
CLICK HERE TO SHOP OUR AFFILIATES

I would like to share this recipe with you that is simply called, Klopps' Best Apple Pie. I have been making this Apple Pie every Thanksgiving for a long, long time, because friends and family will not let me stop! Hope you enjoy it.
Klopps' Best Apple Pie
CRUST: Refrigerated Pie Crust or make your own.
TOPPING: 3/4 cup chopped pecans / 1/2 cup firmly packed brown sugar / 1/4 cup (1/2 stick) butter, melted
FILLING: 1/2 cup sugar / 3 tablespoons all purpose flour / 1 tablespoon cinnamon / pinch of salt / pinch of nutmeg / 1/4 cup (1/2 stick) butter, melted / 4 large tart green apples, peeled, cored and cut into 1″ squares
Instructions Filling: Preheat oven to 350. Combine sugar, flour, cinnamon, salt and nutmeg into bowl. Stir in melted butter. Add apples. Stir well.
Instruction Topping: Combine pecans and sugar in medium bowl. Add melted butter and stir well.
ASSEMBLING: Spray Pam on a pie pan. Spread filling on the bottom of pan, bringing up the sides. Unwrap one of the pie crusts. let it drape over the sides. Add the apple mixture mounding in the middle. Add the other pie crust on top. Bring up bottom, fold and crimp to close. Take a knife and prick the top of the pie.
BAKING: In 350 for 1 hour. Cool completely. You can store and transport it like this.
SERVING: Heat griddle or frying pan on low. Put pie on griddle to heat bottom and soften topping. Run a knife around the edge. Put serving plate on top and flip. Pray the topping comes off in one piece. Serve with whipped cream or ice cream. Enjoy!
CLICK HERE TO SHOP OUR AFFILIATES