The inaugural Greenwich International Film Festival event will take place June 4th through 7th, 2015. The Festival's supporting workshops, seminars and screenings throughout the year will cultivate a burgeoning visual arts community in Greenwich and beyond. GIFF was founded by Carina Crain, Colleen deVeer, and Wendy Stapleton Reyes to bridge the worlds of film, finance, and philanthropy.    This is a spectacular weekend filled with  so many exciting events, parties and premiers to attend, don't miss this opportunity to the new Cannes on the Sound.
The Opening Night Celebration is Friday June 5 with a star-studded event hosted by Jenna Bush Hagar, featuring live music, cocktail, hors d'oeuvres and an Awards Presentation for the Best Films.  For what to wear to a chic celebration of the arts, we shopped Bergdorfs and found this vibrant Jean Paul Gaultier sheath, with a bit of ruching for a fabulous fit. Add a bit of gilded shimmer for an ensemble of interesting visual interest.
Opening Night to Celebrate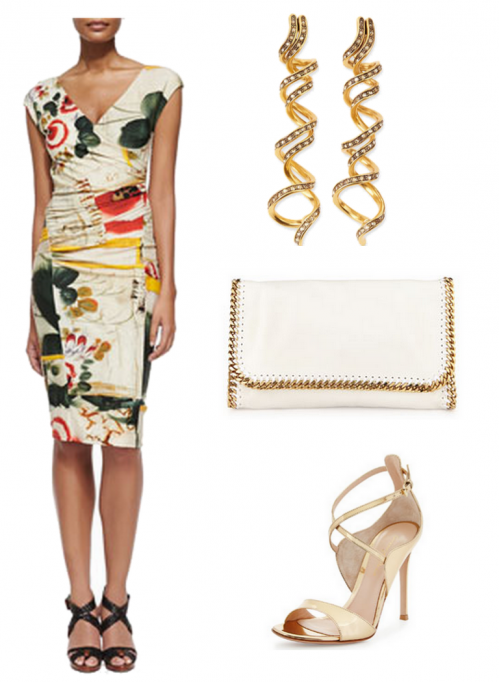 Jean Paul Gaultier Sheath $620  /  Stella McCartney Clutch $895  /  Oscar de la Renta Pave Earrings SALE $276  /  Gianvito Rossi Gold Sandals $860
And don't miss the prestigious Changemaker Gala that will honor Harry Belafonte and Mia Farrow. Regis Philbin and Kathie Lee Gifford will co host the dinner and award ceremony.   And you will be Red Carpet ready in this festive and feminine Marchesa Notte Halter Gown, so elegantly accessorized for star power.
Black Tie Elegance at the Changemaker Gala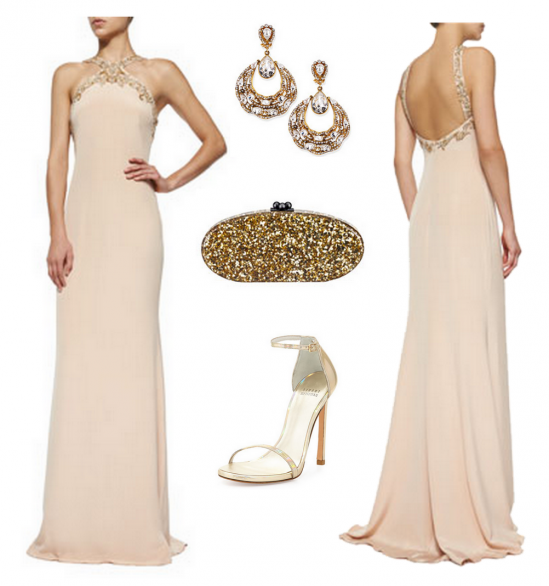 Marchesa Notte Embellished Halter Gown $1195  /   Joe & Marie Baretta Ornate Earrings $440  /  Edie Parker Confetti Clutch $995   /Stuart Weitzman Nudist Metallic Sandals $395