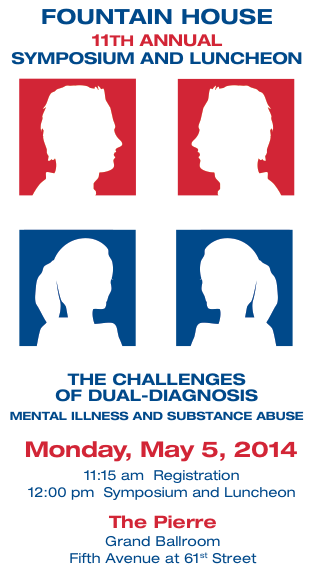 Our friend, Lorna Hyde Graev Vice Chair, External Affairs, introduced us to the critical work of Fountain House.  The organization is dedicated to the recovery of men and women with mental illness by providing opportunities for our members to live, work, and learn, while contributing their talents through a community of mutual support.   Please join the 11th Annual Fountain House Symposium and Luncheon The Challenges of Dual-Diagnosis: Mental Illness and Substance Abuse.   Monday, May 5th  at The Pierre.  For tickets and information, please go to Fountain House Symposium and Luncheon or contact Amy Kurfist, 212.582.0341 ext. 317  akurfist@fountainhouse.org.

What to wear to a luncheon at The Pierre?  We can't get enough of Erdem, the Canadian-born British-Turkish fashion designer for his vibrant and sophisticated prints, so perfect for the spring transition.   As the dress speaks for itself, we kept the accessories from Bergdorf Goodman simple and chic.  Herve Van Der Straeten Earrings, Oscar de la Renta Bangles, Sophie Hulme Bag, a the perfect pair of Jimmy Choo Platform Pumps.  We love the contrast of pattern and texture creating an ensemble of visual appeal.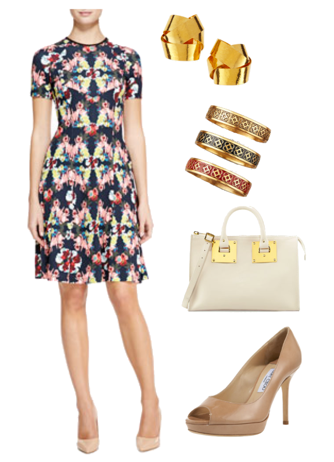 Erdem Armel Paneled Printed Dress $965    /    Herve Van Der Straeten Ruban Ribbon Gold Knot Clip-On Stud Earring $370   /    Oscar de la Renta Petal Logo Bangle $147 ON SALE    /   Sophie Hulme Mini Zip Top Bowling Bag $850   /   Jimmy Choo Patent Peep-Toe Platform Pump $675

Fountain House is about the power of community. It was created to relieve the loneliness and stigma that affect so many people who are living with serious mental illnesses, like schizophrenia, bipolar disorder, and major depression. Serious mental illness disrupts lives – people lose their jobs, they drop out of school, they alienate their families and friends, and they end up alone. In 1944, six former psychiatric patients and two volunteers formed a group and called themselves We Are Not Alone – a name that speaks to what we still see as the central problem for people living with serious mental illness: social isolation. In 1948, recognizing the need for a place as well as a group, they purchased a building in New York City, and Fountain House was born. The approach that we've evolved – our working community – offers people living with mental illness a sense of belonging and the opportunity to form relationships, so they can take the vital steps toward mental health. Membership in Fountain House has been proven to reduce re-hospitalizations and to improve overall health.