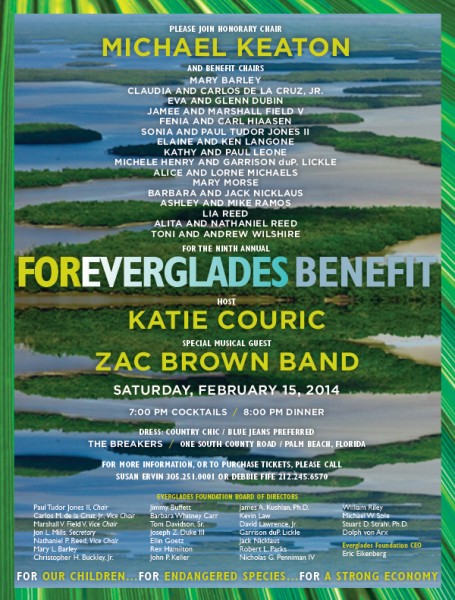 Off we go to Palm Beach for the Ninth Annual ForEverglades Benefit on Saturday, February 15 at The Breakers.  We never turn down an opportunity to break out our warm weather attire before New York's temperatures catch up, and this is THE occasion. Katie Couric will serve as host. Alongside her, famed actor, conservationist, and fly fisherman, Michael Keaton will be serving as the Foundation's Honorary Chair. GRAMMY award winners, and the Zac Brown Band will perform as the musical headliner wowing the crowds with their top hits featuring traditional country, Caribbean rhythms, and R&B."We have an amazing line up of celebrity support to kick off our 20th anniversary celebration," said Eric Eikenberg, Everglades Foundation CEO. "Restoring and protecting America's Everglades is very important to all of us and having Katie, Michael and Zac lend their support in bringing attention to this cause is humbling not only for me but for the entire organization and its supporters."  For more information about the ForEverglades Benefit, please contact Susan Ervin at 305 201 0001 or Debbie Fife 212 245 6570 everglades@eventassociatesinc.com.
Wondering how to interpret "Country Chic Blue Jeans Preferred" Attire?  Well, we kind of went off the grid on this one because we fell in love with the soft shades of this Milly Maxi Dress and it just seems so perfect for a party under the palm trees.   To get that long lean look, add a little height with some platforms.    If the dress brushes the ground, unless you at 6′ tall, it is too long.  Hem it a bit to get the right sensuous sway in the fabric.  And all the better to show off your Jimmy Choos!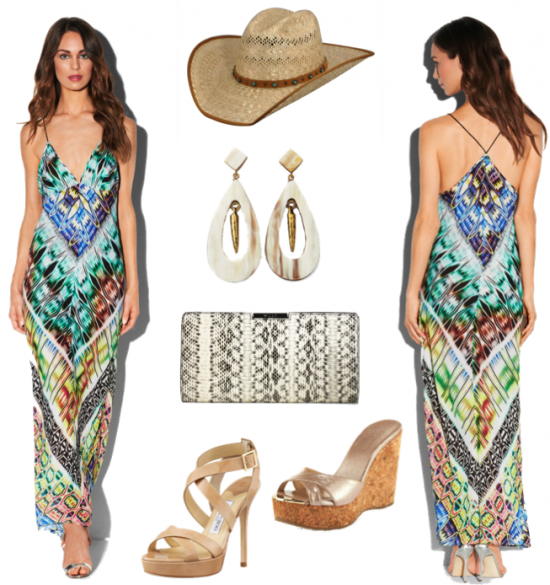 Milly Charlevoid Maxi Dress $395   /  Renegade by Bailey Audrey Western Hat $100   /  Ashley Pittman Heleni Earrings $345   /   Mercer Watersnake Frame Clutch $350   /   Jimmy Choo Vamp Crisscross Platform Sandal $775   /   Jimmy Choo Perfume Crisscross Patent Wedge Sandal $425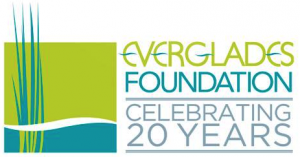 The Everglades Foundation is dedicated to protecting and restoring America's Everglades. This unique ecosystem provides economic, recreational and life-sustaining benefits to the millions of people in Florida who depend on its future health. Through the advancement of scientifically sound and achievable solutions, the Foundation seeks to reverse the damage inflicted on the ecosystem and provide policymakers and the public with an honest and credible resource to help guide decision-making on complex restoration issues.  The Foundation serves as a leader in building consensus for action in support of our mission. Our strength comes from the support we receive from our partners, board, staff and true believers who know we can correct mistakes of the past.