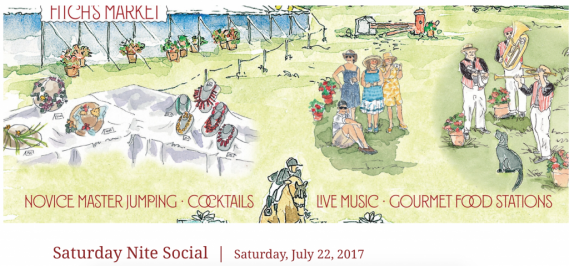 It is that time of year again – Fitch's Corner Weekend!  Fans and friends gather from far and wide to take part in this Millbrook Tradition that brings together devoted Eventing Riders and their fans, lovers of the countryside, shoppers of unique luxury goods, and those just looking for a weekend jam packed with fun.   What2WearWhere is so excited to be once again sponsoring Fitch's Market.  Not only is Fitch's Corner the best time for horsing around it is also the best time to get shopping!  For the first time, the Market will be open for a Saturday Night Social.  6:00 pm  Cocktails; 6:30 pm  Novice Master's Challenge Jumping Finals; 7:00 pm  Gourmet Food Stations and Live Music; 6:00 – 9:00 pm  Shop Fitch's Market and Personal Appearances.
For Saturday's spectating the Cross Country portion of the event, we shopped J. McLaughlin's crisp white pants and Catalina tops, paired with a Glamourpuss NYC hat and tote.  Throw your sandals in the bag and slip on a pair of these divine custom-made La Mundial Boots.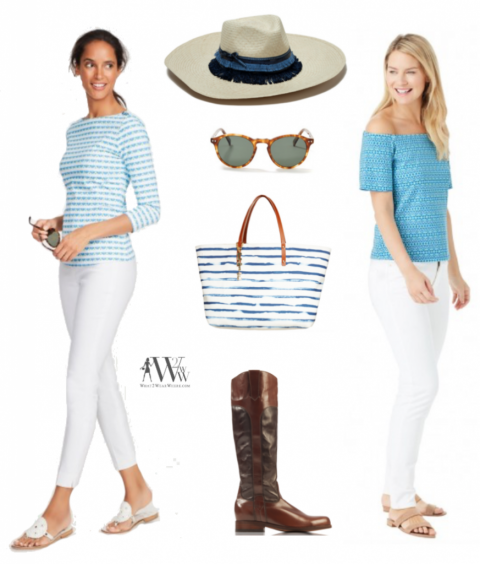 tops:  J.Mc.LaughlinBoatneck Tee  $155  /  Nomi Off-The Shoulder Top   $145  pants:  J.Mc.Laughlin Margot  $158   /  Masie  $158   /  accessories:  Glamourpuss The Brittany Tote $235  /  J.Crew Betty Sunglassess  $128  /  hat:  Glamourpuss Boogie Woogie Hat  $245  / boots:  LM. Custom Boots La Mundial $420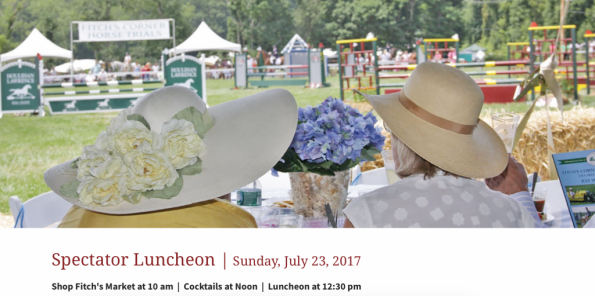 For the Spectator Luncheon.  Fernanda and Kirk love us all to wear hats – and why not?  The Madder Hatters, Diana King and Belle McIntyre have their fantastic assortment of chic chapeaus at the market all weekend long.   Get there early to shop their selection.    For what else to wear, I went a little floral with J. McLaughlin's Cotton Lace Sheath and Gabriella Vallerino's Circa Earrings.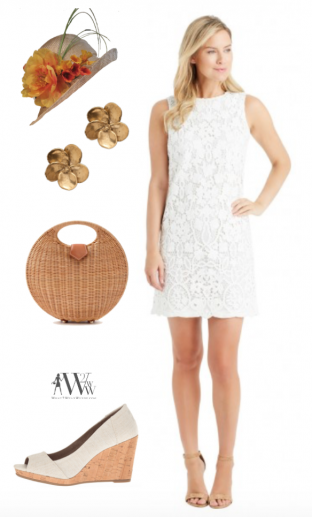 dress:  J.Mc.Laughlin Eva Sleevless Lace Dress  $208  /  hat: The Madder Hatters Summer 2017 Collection  /  accessories:  Gabriella Vallarino Brass Pearl Impression Earrings  $175  /  J.Mc.Laughlin Victoria Circular Wicker Bag  $158  shoes:  Toms Stella Wedge  $55
And no mention of Fitch's would be complete without a photo of Boyd Martin, the dashing champion who rides with incredible daring and confidence.  For a wonderful description of Eventing, click here.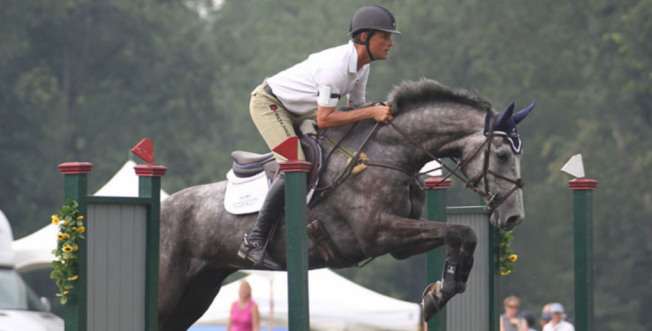 Founders Kirk & Fernanda with Boyd – The Year of the Dragon!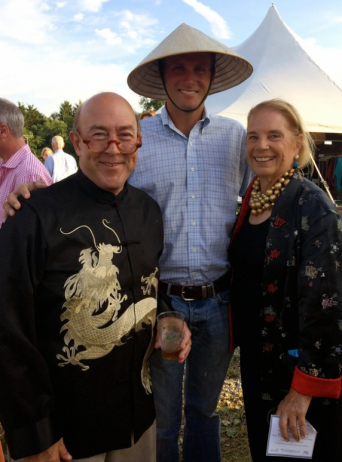 Watch Marian deVogel's fantastic video from last year's Fitch's Corner