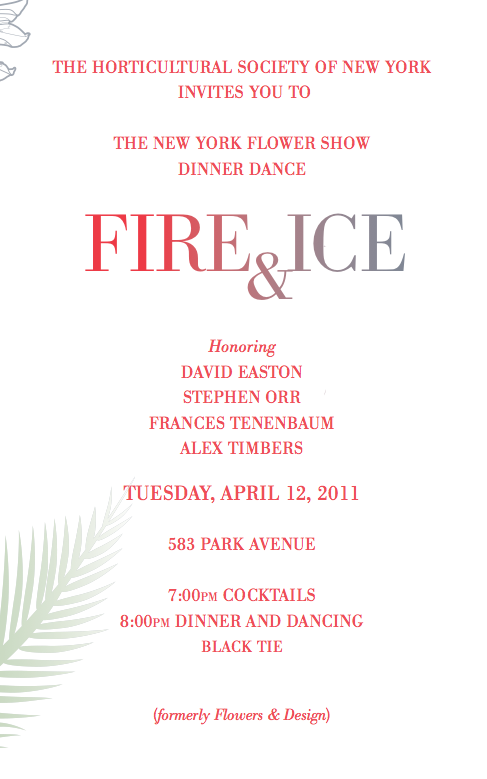 The Horticultural Society of New York's Flower Show Dinner Dance this year will highlight the spirit of the Hort's famous and historical New York Flower Show.  It will focus on table designs of New York's finest floral, fashion and interior designers transforming 583 Park Avenue into a magical setting reflecting the theme Fire & Ice. The New York Flower Show supports The HSNY's mission of enhancing New York City's environmental and cultural life by providing unique educational, vocational and therapeutic outreach programs, library resources and exhibitions. For the first time ever, the showing of table designs will be open to the public from 3:00pm – 5:00pm! This will be a must-see event of the season. To compliment the intense elements theme, we went shopping at Bergdorf Goodman for two cool and sizzling looks for the party.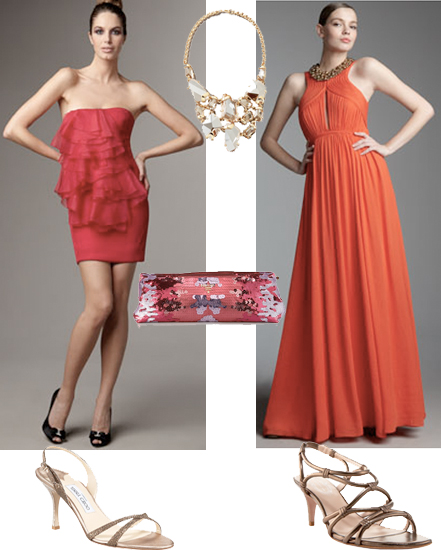 Left to Right: Notte by Marchesa Strapless Organza Ruffle Dress ($650),Jimmy Choo Glittered Crisscross Slingback ($465), Kenneth Jay Lane Crystal Bib Necklace ($795),  Prada Pailettes Clutch ($995), Robert Rodriguez Alexandra Beaded-Neck Gown ($895),  Elie Tahari Lily Metallic Mid-Heel Sandal ($298)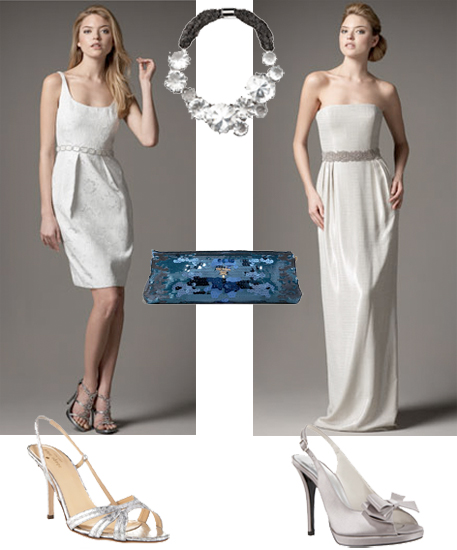 Left to Right: Carmen Marc Valvo Brocade Veaded-Waist Dress ($565), Kate Spade Covet Too Posted Slingback Sandal ($325), Vera Wang Big Crystal & Chain Necklace ($795), Prada Pailettes Clutch ($995),  Carmen Marc Valvo Metallic Tweed Gown ($1025), Stuart Weitzman Satin Bow Peep-Toe Slingback Pump ($335)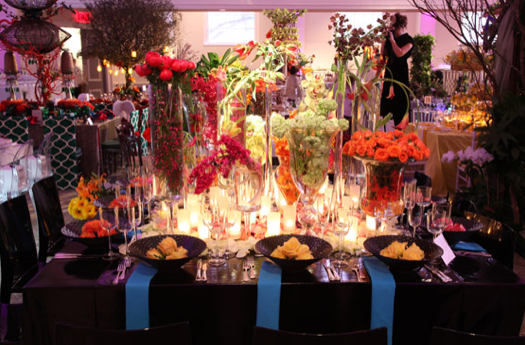 Chairman: Ce Ce Black, Elizabeth Scholtz, Shelia Stepenson, Elizabeth Stribling
Honoring:
David Easton – renowned Architect and Interior Designer
Stephen Orr- gardening editorial director for Martha Stewart Living magazine- author Tomorrow's Garden: Design and Inspiration for a New Age of Sustainable Gardening
Frances Tenenbaum – Legendary Houghton Mifflin garden editor.
Alex Timbers- an Obie and Drama Desk Award-winning writer and director
Flower Show Chair: Huguette Hersch
Judges Chairman: R. Ellen Avellino
Judges: Mario Buatta, David Monn, Rod Winterrowd, Susan K. Gutfreund
Corporate Chair: Mr. & Mrs. Charles S. Cohen, The D&D Building
If you enjoy flowers or the art of design, this spring holds a very special treat in store — for the first time ever, the Horticultural Society of New York will open its doors to the public to share the floral table designs for its New York Flower Show Dinner Dance on Tuesday, April 12, 2011 from 3 p.m. – 5p.m.  With this public event, The Horticultural Society of New York, known as "The Hort," is re-capturing the spirit of its historic flower shows, which have delighted admirers since 1900. The Hort was founded with J. P. Morgan, Louis C. Tiffany and J.J. Phelps among its earliest members and has produced momentous horticultural exhibitions, like the celebrated New York Flower Show. In the spirit of that event, talented artists from the world of floral design, fashion and interior design will bring us back to those grand days, as they offer a diverse array of table designs that enchant and inspire. The artists will each bring their unique vision to the theme "Fire and Ice." 583 Park Avenue will be a sight to see, as the site of the Dinner Dance is transformed with natural splendor.
Contact:
Tickets and information Stephanie Chin – HSNY – 212-757-0915 X101
Press –Biddle &Bellidora Communications – Christine M Biddle – 914-763-3843 Christine@BiddleandBellidora.com
Carole Bellidora Westfall – 973-507-9303 – Carole@BiddleandBellidora.com