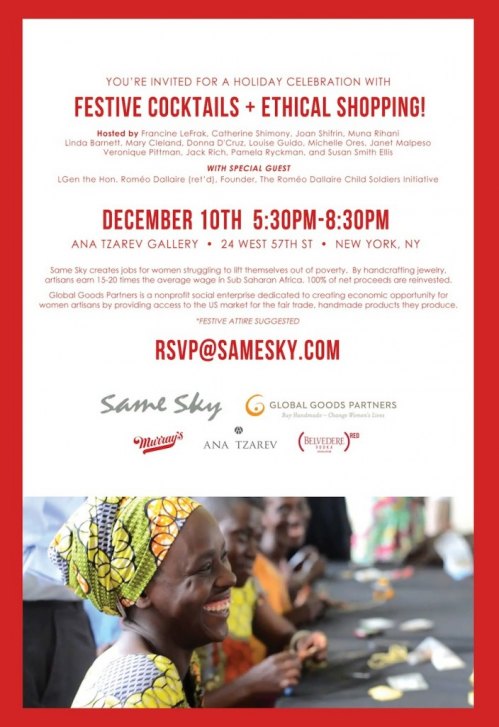 Celebrate the launch of "Hand in Hand", a holiday gift set by Same Sky and Global Goods Partners on December 10th from 5:30-8:30pm at the Ana Tzarev Gallery. Hand in Hand is a collaborative effort between Same Sky and Global Goods Partners, two social enterprises dedicated to empowering women through dignified work and fair wages. The Same Sky beaded bracelets are handmade by formerly incarcerated women in Jersey City, New Jersey. The GGP earrings are hand rolled from recycled paper by women in Mbabane, Swaziland where unemployment is close to 40% and the incidence of HIV is one of the highest in the world.
Join co-hosts Francine LeFrak, Catherine Shimony, Joan Shifrin, Linda Barnett, Mary Cleland, Donna D'Cruz, Louise Guido, Michelle Ores, Janet Malpeso, Veronique Pittman, Jack Rich, Muna Rihani, Pamela Ryckman, and Same Sky's artisans from Jersey City to celebrate the partnership with ethical shopping and cocktails. Special Guest LGen the Honorable Roméo Dallaire. Sponsors include Ana Tzarev, Belvedere (RED), and Murray's Cheese.
To learn more about Same Sky, please visit their website. samesky.com. To learn more about Global Goods Partners, please click on the link . For more information on the event, please contact Elizabeth Lang at (212) 541- 9444 or elizabeth@samesky.com.