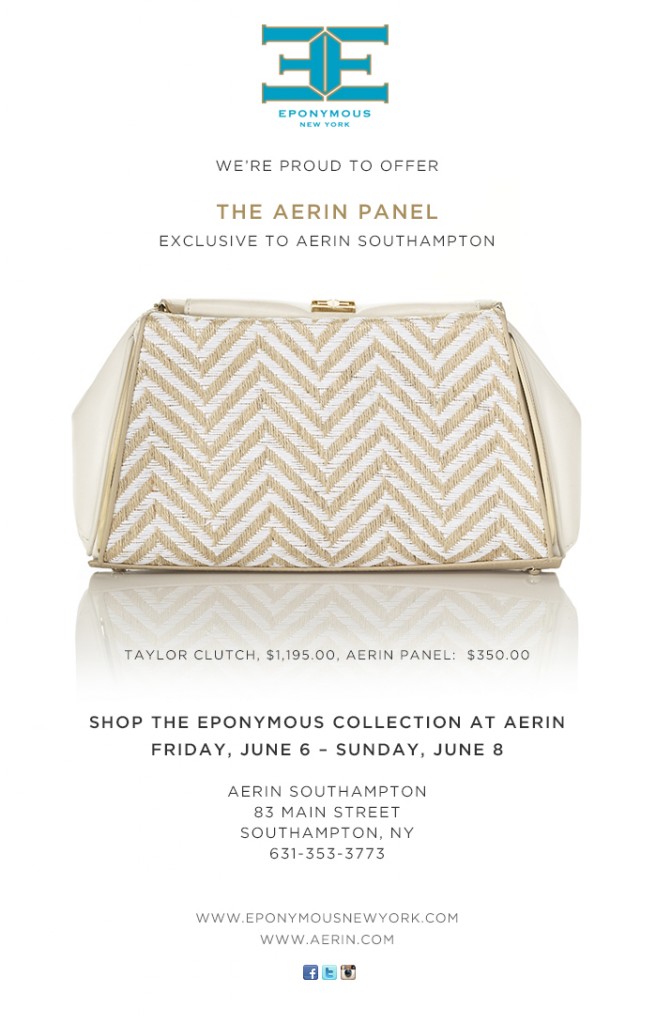 Eponymous New York
and
Aerin Lauder
are hosting an upcoming Trunk Show to mark the release of the special edition
Aerin Panel
 designed in collaboration between innovative luxury handbag brand,
Eponymous New York
and
 Aerin Lauder.
Eponymous New York Trunk Show
is taking place at
AERIN SOUTHAMPTON
on
FRIDAY, JUNE 6TH
through
SUNDAY, JUNE 8TH.
Eponymous is a luxury brand of handbags, co-founded and designed by Claudia Overstrom and Betsy Pitts.  Eponymous handbags are made in Italy of the finest quality leather and jewelry quality hardware.  In Fall 2012, Eponymous launched with two classic styles, the Margot Day Bag and the Taylor Clutch, each with a unique design element; interchangeable panels that attach to each bag to change its look.  Panels are sold separately and allow the Eponymous handbag to transform with ease to suit the wearer's mood and style.  Each season features a new and warred collection of panels in stunning designs, as well as, exotic skins, including alligator and python.  The sophisticated designs appeal to the chic, young professional, as well as, the seasoned luxury bag owner.  The eponymous woman appreciates luxury and wants to express her individuality.