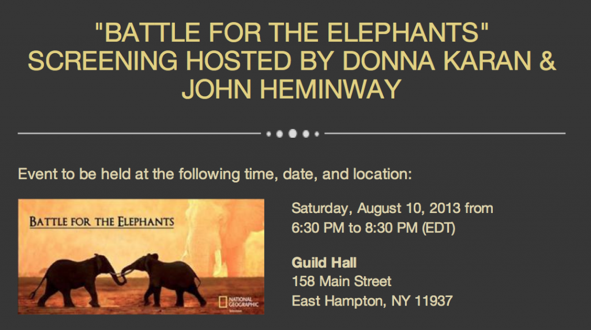 Our friend and animal philanthropist, Krista Krieger founded Empowers Africa, a non-profit foundation based in the United States that supports programs on the ground in Sub Sahara Africa.  The organization, along with fashion designer Donna Karan, artist Davina Dobie, and filmmaker and writer John Heminway is hosting a special screening of National Geographic's "Battle for the Elephants" on Saturday, August 10 at Guild Hall in East Hampton.   The evening beginning with cocktails at 6:30 p.m and there will be discussion with special guests following the screening.  To purchase tickets for the event go to [email protected] or  click here.
For an evening of conservationist wildlife viewing, we were inspired by the majestic animals and rugged drama of the African Continent, and put together a classic look of white jeans topped with a Tory Burch Leapord Print Silk Blouse.  To accessorize, we kept the textured, natural look going with Alexis Bittar Tiger-Striped Lucite Fringe Pendant Necklace, Jimmy Choo Lizard Print Sandals, Bing Bang Eclipse Arc Earrings, Tory Burch Python Embossed Clutch, and the Vionette Pyrite Cuff. The look is a sophisticated interpretation of high safari style.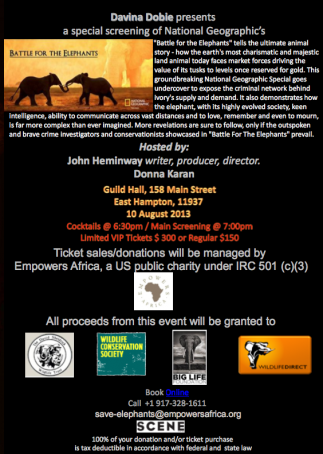 As the demand for ivory grows in China and other Asian countries, the number of African elephants being slaughtered has exploded, with approximately 30,000 African elephants killed illegally in 2012, according to the World Wildlife Fund. "'Battle for the Elephants' is very educational and outlines the roots of where the demand for ivory is germinating," Kreiger says, "as well as the pervasiveness and organized criminal element involved in ivory poaching. The film is the story of how one of nature's most majestic animals is being destroyed by market forces."
All ticket purchases and/or donations from this screening will be granted from Empowers Africa to four foundations who are working on the ground in Africa to stop the slaughtering —The David Sheldrick Wildlife Trust, Wildlife Conservation Society, Big Life Foundation and WildlifeDirect.