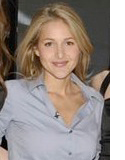 We asked our committed friend Olivia Zaleski, environmental news anchor and reporter focusing on green energy and corporate responsibility, to choose her top Eco Friendly gifts this year. We love these sustainably stylish selections that range from bikes to bangles. Wrap someone up in wonderful Alicia Adams Alpaca accessories, sport endless beads from around the globe, reduce your Stella McCartney-clad carbon footprint with a custom-made Republic bicycle, and dazzle in some gorgeous "green" jewelry. Read more about Olivia Zaleski's work below and don't forget to see our post on Gifts that Give Back!
Eco Friendly Gifts: 1. WWF – Handmade Acai Bracelets (free with donation of $50) 2. Alicia Adams Alpaca Hot Water Bottle Covers ($87), 3. Eco Friendly Iphone Case ($8) 4. Bamboo Soy Kitchen Candle ($15.99), 5. John Hardy Coil Bracelet ($995) 6. Alkemie Jewelry Snake Earrings ($155) 7. Vers Bamboo Earphones ($49.95), 8. Nazca Clutch ($66) 9. Maasai Beaded Bangle ($14), 10.  11. Stella McCartney Morgana Slingbacks ($695), 12. Sheila Fajl Rose Quart Black Onyx Ring ($295), 13. Alicia Adams Alpaca Wrap 14. Republic Bike: Design Your Own Bicycle
OLIVIA ZALESKI is a television news anchor, reporter and interviewer focused on issues surrounding business, clean tech, green energy and corporate social responsibility.

In addition to covering environmental economics, Zaleski lends her voice to the green lifestyle movement, hosting Money Magazine's DIY series, "Home Work," and appearing as a guest expert on ABC's "Good Morning America Now." Zaleski's content can also be found on Discovery Channel's TreehuggerTV, PlumTV, the CW Network and the nationally-syndicated morning news program The Daily Buzz. Her written commentary exists across numerous multimedia platforms, including Discovery's Treehugger.com; Hearst Corporation's TheDailyGreen and Marie Claire; and The Huffington Post, where she helped launch Huffington Post Green under Lifestyle Editor, Willow Bay.