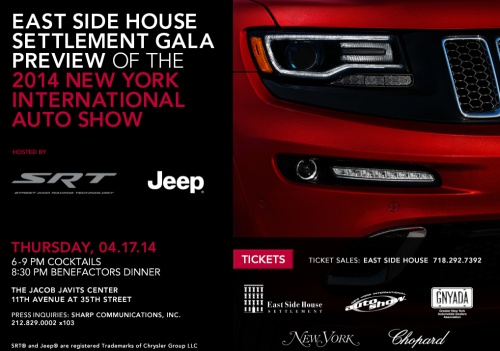 Ladies and Gentlemen, start your engines!  On Thursday, April 17th, 2014 , East Side House Settlement will host the 15th Annual Gala Preview of the 2014 New York International Auto Show.  Jeep will offer guests a private preview of the entire New York International Auto Show before it officially opens to the public.   The exciting evening is chaired by Philip L. Yang, Joan P. Young, Chris LaSusa, and Elia Zois and the Benefit Committee is chaired by our stylish and sultry friends, Fe Fendi,  Morgan Shara and Mariana Zois.  The media sponsor is New York Magazine.   Don't miss Camp Jeep® New York, an outdoor, rugged terrain space in which passengers experience Jeep's off-roading capabilities.  For tickets and information, please go to  East Side Settlement House Gala Preview International Auto Show.
For what to wear to a driver's dream of a show, we went top speed to Net-A-Porter to find a vroom- vroom worthy ensemble.  The Alexander McQueen Scuba Dress has a exquisite neckline and interesting detailing to show off your dangerous curves.   And to accessorize, what could be faster off the line than Givanvito Rossi's sexy, strappy sandals and the Charlotte Olympia see through clutch, just add Eric Beamon's Crystal Earrings for high octane performance.  For more options, please go to Spring's Little Black Dresses.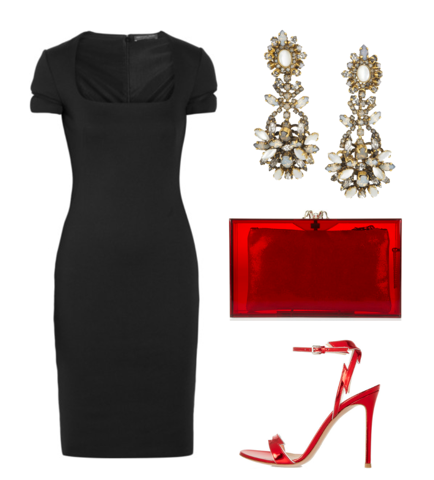 Alexander Mcqueen Scuba-Jersey Dress $1495   /   Erickson Beamon Whiter Shade Of Pale Gold-Plated Swarovski Crystal Earrings $595   /    Charlotte Olympia Pandora Perspex Clutch $975   /   Gianvito Rossi Patent-Leather Sandals $895
This special event combines a preview of the entire New York International Auto Show, a cocktail reception, a private dinner for sponsors and benefactors, an exciting live auction and an exclusive silent auction of luxury items and packages. 1,500 people attend the Gala each year; guests include hedge fund and private equity managers, celebrities, socialites, Wall Street executives and private clients of wealth management firms. This is a great cause, a unique event and a great networking opportunity in the worlds of car enthusiasts, Wall Street, private equity and wealth advisory.  Each year the event raises critical funds for ESH and we hope to raise even more this year with your help!
All proceeds from the Gala Preview will directly benefit the students of East Side House's College Prep Programs, which provide students with the support necessary to complete high school, enroll in college, and secure a future. As a result of the generosity of the Greater New York Automobile Dealers Association and the New York International Auto Show, deserving students receive scholarship assistance, college admissions and financial aid counseling, college visits, SAT/test preparation services, college preparation workshops, and critical wrap-around support. We are proud that more than 90% of high school seniors in our college prep programs are admitted to college.