Each spring we celebrate the museum with the Dia:Beacon Spring Benefit 2011, a full day of art and performance that provides crucial support for Dia. The Co-Chairs of this event, Sandra Brant and Ingrid Sischy, Jack McCollough and Lazaro Hernandez of Proenza Schouler, and Alison Spear,  have put together a fantastic family day of art and adventure. For what to wear, we  put together this artful ensemble by Proenza Schouler. The day-long event includes a  performance of Robert Whitman's MoonRain (2010) and a seated lunch amidst John Chamberlain's sculptures. Guests will have an opportunity to explore Dia's galleries throughout the day, and a family program will be offered during lunch for younger guests to enjoy.  Guests are invited to spend time in the museum at their leisure and explore Dia's long-term installations and the new exhibitions.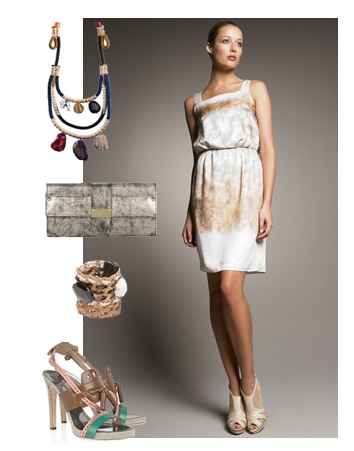 Clockwise: Proenza Schouler Rope Necklace ($650), Printed Silk Dress ($975), Tasseled Leather Slingbacks ($750), Woven Cuff ($325), Jimmy Choo Ubai Leather Clutch ($550)
For more information or to purchase tickets over the phone, please contact event coordinators MF Productions at 212 243 7300.For more information about Dia:Beacon, click on the image below.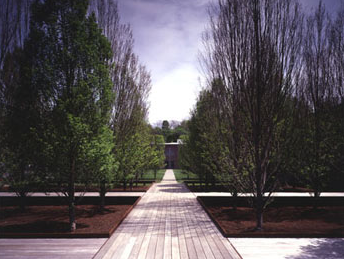 Sunday, May 15, 2011

Dia:Beacon, Riggio Galleries
3 Beekman Street, Beacon, NY

11:30am Coffee and refreshments
12:30pm Performance of Robert Whitman's MoonRain (2010)
1:30pm Seated lunch / Children's Program
3:30pm Gallery tour with Dia curator Yasmil Raymond

Dia:Beacon will remain open until 6 pm. Guests are invited to spend time in the museum at their leisure and explore Dia's long-term installations and the new exhibition "Franz Erhard Walther: Work as Action," featuring the large-scale 1. Werksatz (First Work Set) from Dia's collection.

Co-Chairs
Sandra Brant and Ingrid Sischy
Jack McCollough and Lazaro
Hernandez of Proenza Schouler
Alison Spear

Gala Committee
George Ahl
Susan Almrud
Andrea Rosen Gallery
Andrew Kreps Gallery
Carolyn Tate Angel and Adam Shopkorn
John J. Anselmi
Christopher M. Bass
Racine Berkow and Allen Alter
Kelley Blevins and Aaron Villalobos
Bloomberg
Kimberly and Mark Bottini
Frances Bowes
Bonnie Roche-Bronfman and Charles
Bronfman
Gavin Brown
James Keith Brown and Eric
Diefenbach
Melva Bucksbaum and Raymond
Learsy
Veronica Bulgari
William Burback and Peter
Hofmann, MD
Calvin Klein Family Foundation
Barbara Bertozzi Castelli
Claudia Cisneros F
Pippa Cohen
Paula Cooper and Jack Macrae
Madison Cox and Jaimal Odedra
Janet Olmsted Cross
Kathleen Cullen
Victoria Vargas D'Agostino
Susan Davidson and Allen Miller
Sharon and Christopher Davis
Rafael de Cárdenas
Nathalie and Charles de Gunzburg
Beth Rudin DeWoody
Marylyn Dintenfass and Dr. John
Driscoll
Yasaman and Vuk Djunic
Susan Eckhardt-Knoops and Johannes
Knoops
Michelle and Asher Edelman
Fifth Floor Foundation
Peter C. Freeman
Gagosian Gallery
Greene Naftali
Nina Griscom
GUCCI
Agnes Gund
Melinda Hackett and Michael Drury
The Hauptman Family Foundation
Hauser & Wirth
Paula and Eliot Hawkins
Marieluise Hessel
Rena and Scott Hoffman
Cyril Karaoglan
Rhiannon Kubicka
Cathy Kuttner and Dick Polich

Stephanie and Jody La Nasa
Jo Carole and Ronald S. Lauder
Virginia Lebermann and John Wotowicz
Dominique Lévy and Dorothy Berwin
Drothy Lichtenstein
Lutz & Carr CPA's LLP / Fred Martens
Catherine and Douglas MacMahon
Maharam
Hermes Mallea and Carey Maloney
Marian Goodman Gallery
David and N. Heller McAlpin
Leslie and Mac McQuown
Nancy Miller
Donald R. Mullen, Jr.
Jan and Ken Musen
Merle and Leonard Nelson
Maja Oeri and Hans U. Bodenmann
Nancy and Morris W. Offit
The Pace Gallery
Kevin and Ulla Parker
Brian Phillips
Caroline and Didier Phitoussi
Marc B. Porter
Miuccia Prada
Warrie and James David Price
Cindy and Howard Rachofsky
Liz Gerring Radke and Kirk August
Radke
Sukanya Rajaratnam
Alex Reese
John Reese
Victoria Reese and Greg Kennedy
Jeanne Greenberg Rohatyn and
NicolasRohatyn
Deedie and Rusty Rose
Jonathan F.P. and Diana Rose
Mrs. Benjamin M. Rosen
Merrill Wagner and Robert Ryman
Marla Sabo
Liliane Salama and Peter Stillman
Louisa Stude Sarofim
Lisa Schiff
John Silberman and Elliot Carlen
Lea Simonds
Galia Solomonoff and Fabian Marcaccio
Kate and Andy Spade
Christine Stanton and Jean-Michel
Wasterlain
Galia and Axel Stawski
Michael Ward Stout / The Robert
Mapplethorpe Foundation
Ned Sullivan / Scenic Hudson
Jamie Tisch
Heidi and Jimmy Traboulsi
Adrian Turner
Susie and Chris Valerio
Gordon VeneKlasen
Helen and Peter Warwick
Barbara and Charles B. Wright

In-Kind Donations
Aesop
Brooklyn Brewery
Chateau Maris, Kevin and Ulla Parker
illy caffè
John Robshaw Textiles