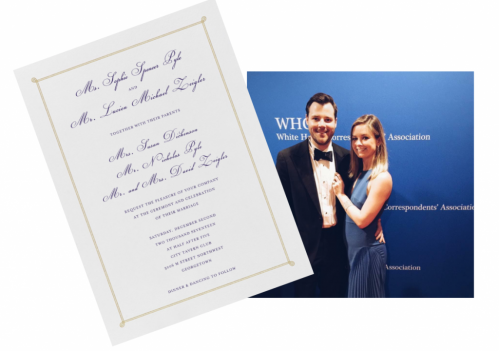 Our stylish friend Sophie Pyle, Social Media Maven par excellence,  is walking down the aisle in December and I am totally excited about travelling to DC for the wedding.   The attire is "Semi Formal" which is a phrase that I love.  In recent years, "Festive Attire" has been a stand in for the phrase, but not nearly as descriptive.   "Semi Formal" is an elegant throwback to a time when women dressed up to go out.  It is a short, dressy frock accessorized as one might for "Formal Attire" with a little bling.    For men, it means a dark suit and tie.  Men have it sooooo easy, but not as much fun!   The most important thing when packing for a destination wedding or any trip, is to plan your wardrobe in a color scheme.  It let's your accessories do double time while you breeze through the airport with a carry-on bag.   Wine, merlot, claret – whatever way you sip – it is a gorgeous shade for December and the winter months.
Wedding is Semi Formal
dress:   David Meister Embroidered Overlay Sheath  $550
accessories: Glamourpuss Rabbit Fur Jacket  $995   /  Saks Fifth Avenue Collection Leather Gloves  $105  /  Maltese Medallion Clutch  $295  /  Oscar De La Renta Faux Pearl Bamboo Leaf Drop Earrings  $325
shoes: Stuart Weitzman Nudist Goosebump Suede Sandals  $415  /  Jimmy Choo Romy 85 Suede Point Toe Pumps  $595  
Most weddings these days have become "Destination Weddings" (there is a chapter in my book, Packing for Travel on how to dress for it.).    My rule of thumb is Little Black Dress or comparable to the Rehearsal Dinner on Friday Night,  casual weekend wear for Saturday,  something special for the wedding, and a day dress for Brunch on Sunday, but pants and a top would also be appropriate.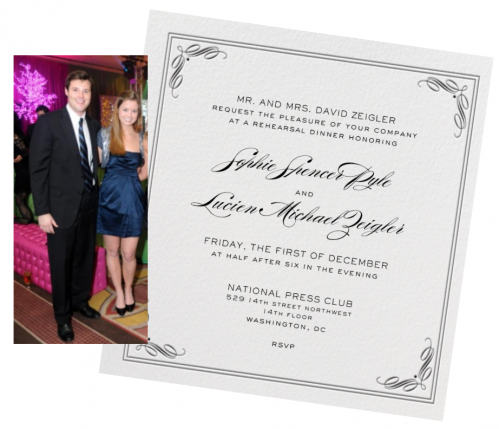 Rehearsal Dinner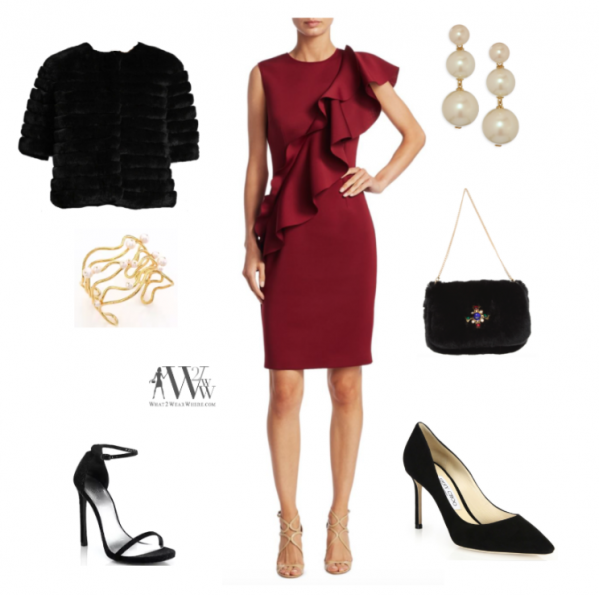 dress:  Nero By Jatin Varma Ruffled Neoprene  $550  /  Glamourpuss Rabbit Fur Jacket  $995   
accessories:  Maltese Medalion Clutch  $295  /  Kate Spade New York Golden Girl Faux-Pearl Drop Earrings  $58  /  Aurélie Bidermann Cheyne Walk Wire&Freshwater Pearl Cuff Brecelet  $570
shoes:   Stuart Weitzman Nudist Goosebump Suede Sandals  $415 / Jimmy Choo Romy 85 Suede Point Toe Pumps  $595  
And while I was combing the aisles at SAKS.com and found a few more fabulous frocks for "Semi Formal Attire"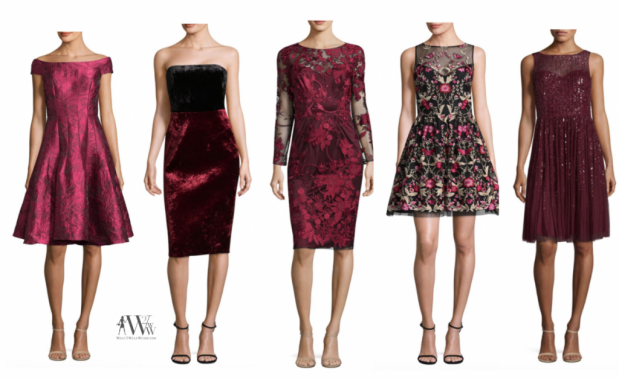 dresses left to right:  Carmen Marc Valvo Off-The-Shoulder Floral Lace  $680  /  Aidan Mattox Sleeveless Short  $450. /. David Meister Embroidered Overlay Sheath  $550  /  Shoshanna Floral Embroidered Flare  $595
An excerpt from Packing for Travel: 
10 Tips: How to be a Good Wedding Guest
#1. DO RSVP promptly!  The family will appreciate it.
#2. DON'T procrastinate in sending a gift. Find out where the bride is registered and pick one that fits your budget and taste. When in doubt, a silver or silver plate frame, engraved with the wedding date is always appropriate & appreciated.
#3. If you are unclear on the dress code, especially if there is a theme or destination involved, it is perfectly acceptable to ask the bride or her parents on the preferred style. Or DO write to us and let us do the research!
#4. It is generally acknowledged that black is not worn unless the wedding is after 5:00pm or formal. So DON'T, unless you want to buck the system. Better to break a rule when you know a rule.
#5. Ditto on wearing white –DON'T EVER!
#6. DO be on time to the ceremony. It is not good form to follow the bride down the aisle unless you are holding her train, and just guessing that you do not have Pippa Middleton's assets.
#7. DON'T duck the receiving line to get to the bar. Give a warm but a brief well wish. This is not the time for a lengthy conversation.
#8. Speaking of the bar – have fun, but DON'T overdue it.  And if you are not expected to toast – please DON'T.  Many times the Wedding Party goes off for photos while the guest enjoy a long cocktail hour.  Make sure to eat something so as not to get too tipsy too early.
Step 9. DON'T complain about the food. Actually, DON'T complain about ANYTHING!
Step 10. DO write a thank you note soon after the party. If it is a close friend, call as well.   DO exclaim profusely at the fabulosity of it all!  "BEST WEDDING EVER!"