We were inspired and awestruck by the exhibit at the Museum at FIT, DAPHNE GUINNESS. "From her platinum-and-black striped hair to her towering 10-inch heels, from her to-die-for couture collection to her amazing jewelry, Daphne Guinness completely embodies the rarefied personal style of a fashion icon. "She is one of the – if not the – most stylish women living," says designer and film director Tom Ford." The exhibit is on view through January, 2012 and it features approximately 100 garments and accessories from Guinness's personal collection, plus films, videos, and images, of and by her.  Known throughout the world, for her unique style, Daphne Guinness is one of today's most original and extraordinary fashion icons.  They say that imitation is the sincerest form of flattery, which is why we have tried to capture the spirit and style of our iconic heroine. CLICK HERE for our video interview and peak at the exhibition – Fashion Editor Hilary Dick interviews Valerie Steele, Director of the Museum at FIT who so skillfully styled and curated with Daphne herself.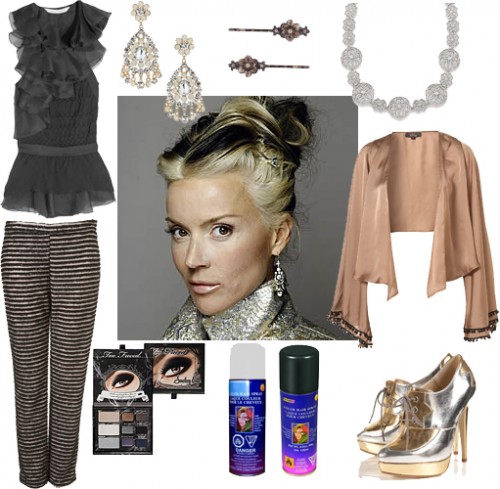 Left to Right: DVF Anais Silk-Chifon and Organza Bodysuit ($390), Tinsel Stripe Trousers by Unique ($220), Flower and Stone Earring ($50), Smokey Eye Shadow Collection ($36), Revlon Chateau Marmont Booby Pin ($7), Temporary Bright Color Hairspray ($5), Carolee Ornate Crystal Necklace ($95), Bobble Trim Sleeve Jacket by Rare ($84) , Sonar Lace UP Boots ($156)
You have to see the back of this DVF blouse!