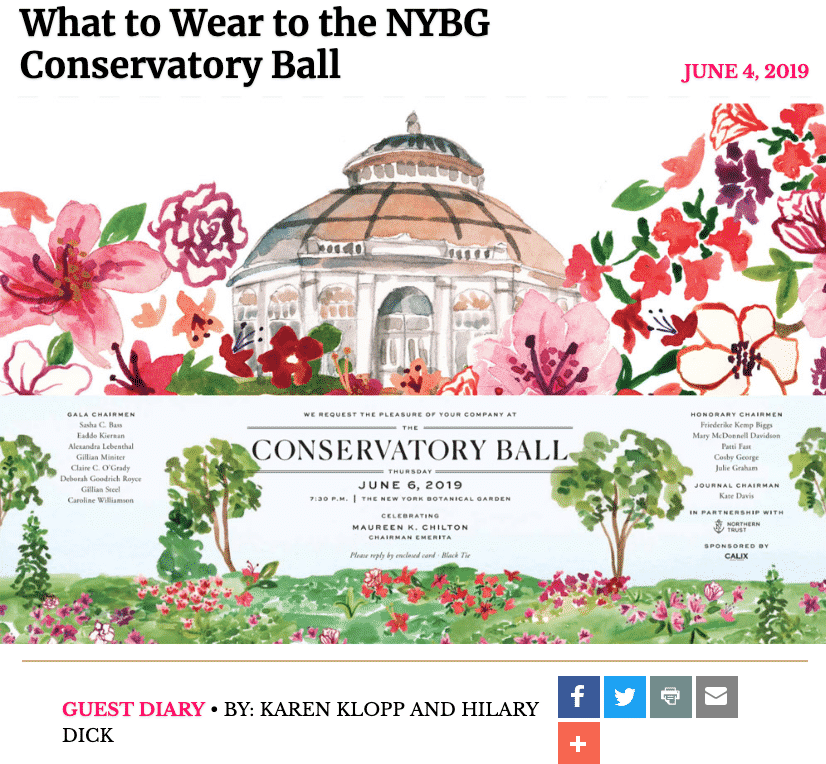 You can almost hear the salsa beat and strains of Antonio Carlos Jobim, as the New York Botanical Garden Conservancy Ball, being held this Thursday, June 6th, rhumbas to the opening of a vibrant, new exhibit, based on the work of brilliant Brazilian landscape artist, Robert Burle Marx.
Maureen Chilton, Chairman Emerita, is being deservedly honored. For nine years Maureen headed the board, the first woman to do so, and expertly guided the organization with intelligence, charm and grace. During that period BGNY blossomed as an institution, enjoying a period of enlightenment and outreach, while retaining its reputation as a preeminent institution of education, research and conservation.
---
---
Gala Chairs Sasha Bass, Eaddo Kiernan, Alexandra Lebenthal, Gillian Miniter, Claire O'Grady, Deborah Goodrich Royce, Gillian Steele and Caroline Williamson have their roots firmly established as gracious and generous patrons of BGNY. Their collective energies are sure to plant the seeds for the most glorious and glamorous soirée jardin. The grass actually will be greener at this tribute to nature, beauty and conservation.
---
---
Guests will be guided through The Living Art of Roberto Burle Marx featuring a vibrant garden designed by protege Raymond Jungles in the high energy spirit of the master's work. It will also include paintings, prints, drawings and textiles from this prolific visualist, who helped to shape Modernist 20th Century design in Brazil, as well as around the world. He has been attributed as the "artist who painted with land" and as a "painterly landscape architect."
Mr. Jungles has noted his mentor's drive to create beauty, "From children's playgrounds, to art, to sculptural vine trellises, to murals, to incredible gardens, you can see his passion in everything that he did, he was always creating; that's what gave him joy."
---
---
---
---
---
BGNY is THE highlight of the spring season in the city and what a luxury to be whisked away to another world of beauty and botany, far from the bejeweled ballrooms of the city. It indeed calls for a very special dress but most come with an equally special price tag. As luck would have it, many designer gowns are on sale right now and we scoured our selected sites to bring you the best of the best. Click through to purchase but don't hesitate because the stock is disappearing. I began at Oscar to check out the sales. Since I just returned from a holiday in Morocco, I am feeling very caftan-y.
---
---
Then I found scrumptious Carolina Herrera on sale at Farfetch. Her florals and bold patterns are perfect for an evening in the Garden.
---
---
---
And while I chose the botanical route, Hilary put together an ensemble that completely captures the spirit of the celebrated, modernist master. This dress, with its bold pattern and bright colors, seemed just the right look for an evening in the luscious gardens created by Raymond Jungles. It is always a special night and calls for a special dress. I thought it fun to mix it up with a pattern rather than florals. And with such a dress you need to add statement accessories, such as this poppy pink garden gardenia ring, they pop and compliment the main event as you dance under the stars."
---
---
Roberto Berle Marx was a name I knew but I did not understand the scope of his brilliance and influence. Born in Rio de Janeiro of a German father and a Brazilian mother, his family moved to Berlin when he was 17. Here he studied art and became fascinated by the hothouses of the botanical garden at Dahlem in Berlin. When he returned to Rio, he committed himself to the design of garden and public spaces and went on to substantially influence tropical garden design in the 20th Century as he worked closely with luminary architects such as Oscar Niemeyer.
---
---
---
One of Burle Marx's most beloved masterpieces is the swirling mosaic walkways at Copacabana Beach in Rio de Janeiro.
---
---
---
---
---
BGNY is uniquely qualified to created a cross pollination of art, garden, sights, sounds and tastes.
Watch this short about the fascinating exhibit …
---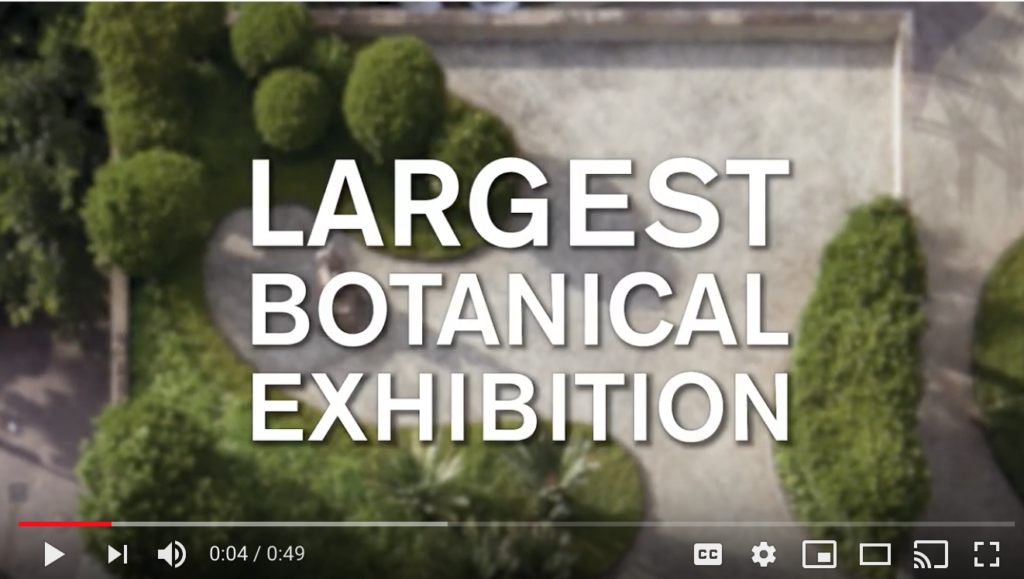 ---
And take advantage of all of the immersive opportunities to discover the prolific and versatile career of of Roberto Burle Marx.
Proceeds from the Ball help underwrite the Garden's internationally acclaimed programs in children's education, which serve more than 325,000 children and families in the tri-state area, and botanical research programs, which influence conservation, climate change, and biodiversity causes worldwide.
---
Photos by Berle Marx Office Collectione.