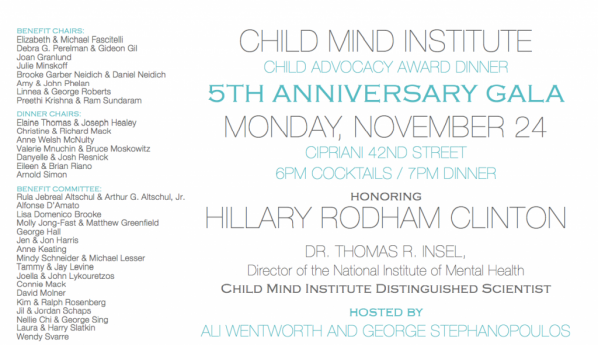 Please join us on Monday, November 24, 2014, for the Child Mind Institute's Fifth Annual Child Advocacy Award Dinner, honoring Hillary Rodham Clinton with the 2014 Child Advocacy Award, and Dr. Tom Insel, Director of National Institute of Mental Health, with the 2015 Distinguished Scientist Award. The dinner will be hosted by Ali Wentworth and George Stephanopoulos.  The Evening begins with Cocktails at 6:00pm, followed by dinner.  What an impressive line up of honorees for this important organization that  is dedicated to transforming mental health care for children everywhere.  For tickets and for infomation, please to Child Mind Institute or contact Allison Horton atdevelopmentinfo@childmind.org, 646-625-4343.
What to wear for an event that calls for Business Attire, we kept in mind the start of the Holiday Season to put together two looks, from NET-A-PORTER that can go to Business, Cocktail or even Festive events.   These Navy Blue Lace Beauties both have lovely V Necklines in the back, while the fronts are lady-like demure.  To accessorize, we chose an mix of classics, pearls and gold tone, mixed with an updated bit of bauble and bling.  With navy, black shoes are a fine pairing, but when we found these these dreamy Navy Pumps from Gianvito Rossi and Jimmy Choo, we just couldn't resist.  Add a simple, muted metallic clutch, and don't forget a Midnight Fur Jacket from our friends at GlamourpussNYC for a stunningly chic ensemble for all of your Holiday Events.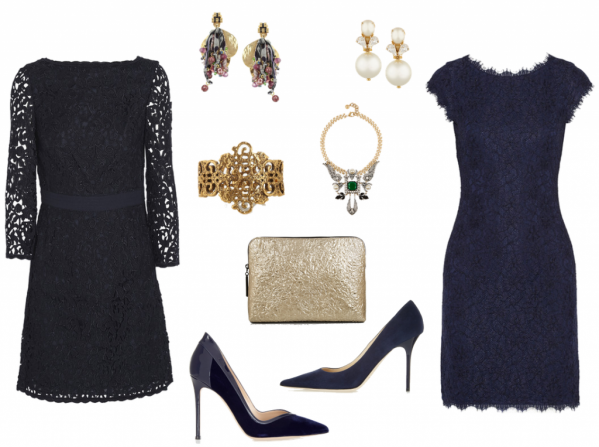 Tory Burch Renny Lace Dress $495
Gianvito Rossi Suede and Leather Pumps $820
Oscar de la Renta Gold Filagree Bracelet $365
Lele Sadoughi Pearl Earrings $375
Lulu Frost Stone Necklace $475
To complete this elegant holiday party ensemble top it off with a Glamourpuss Bell Sleeve Midnight Blue Jacket.