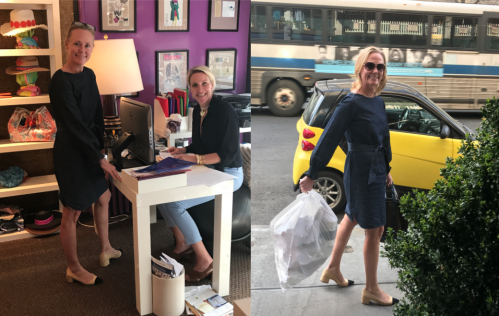 I was inspired by Hilary's denim dress, from what to wear to the office, to what to wear to stylishly take out the trash!      So I went in search of some current styles to add to your spring wardrobe.  I always thought of denim as a distinctly American fabric so I was surprised to learn of its origins.   The name "denim" comes from fabric called "Serge de Nîmes", initially made in Nîmes, France, hence "de Nîmes" – "denim".    It was out of this sturdy fabric that Jacob W. Davis and Levi Strauss created the first pair of jeans.   But the cloth's transformation from cowboy to catwalk has created an entire industry worldwide.  While it is never out of style, denim in other forms and shapes seem to be very much in vogue right now.    With that in mind I perused a few of our affiliates and came up with a super selection of affordable, wearable pieces to fill out your spring and summer wardrobe.
First stop was J.McLaughlin where I found this assortment of easy wearable styles.
Four Easy Pieces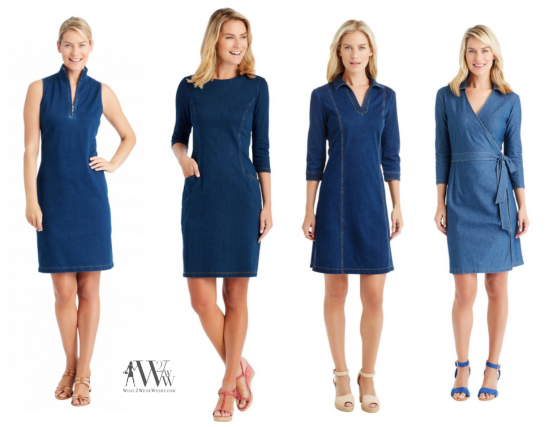 Next, to my tried and true J CREW for a selection of separates that are so fresh and fun to wear everyday.  Denim and the shade of saddle brown is a natural pairing.
Easy Everyday Dressing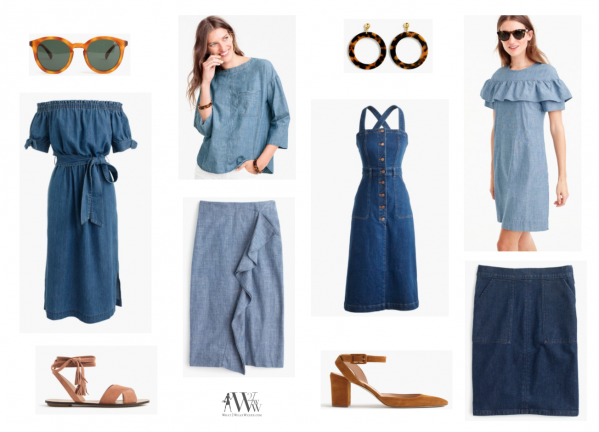 tops:   J. Crew Chambray Swing Top $78
bottoms:   J. Crew Ruffle Skirt $98   /   J. Crew Tie-Back Denim Skirt $78
dresses:   J. Crew Off the Shoulder Chambray Dress $88   /   Denim Apron Dress $118   /   J. Crew Edie Dress $49.99 SALE
accessories:   J. Crew Frankie Sunglasses $118   /    J. Crew Fun Circle Earrings $19.50
shoes:   J. Crew Lace Up Suede Sandals $118   /   J. Crew Lena Pumps $159.99 SALE
Then onto The GAP for more variations on the theme of wonderfully priced, stylishly chic fashion.  At just $50, the duster coat is a versatile piece that you will have for years to come.
Trues Blues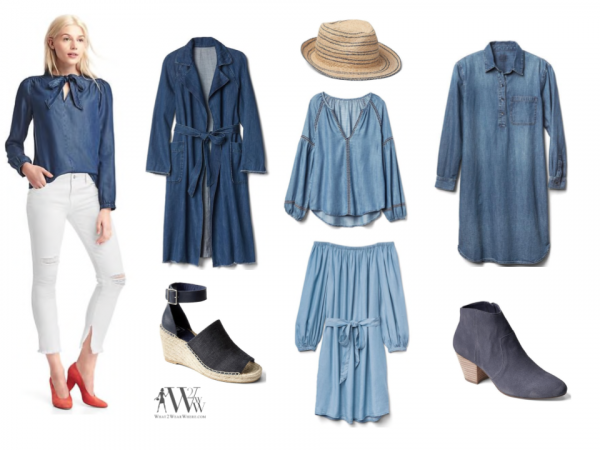 tops:   GAP Denim Tie-Neck Top $44.99 SALE   /   GAP 1969 Tencel Denim Blouse $69.95 
dress:   GAP Long Denim Front Coat $50.99 SALE   /   GAP Tencel Off-Shoulder Tie Dress $69.95   /   GAP Denim Popover Shirtdress $69.95 
accessories:   GAP Stripe Fedora $34.95
shoes:   GAP Denim Espadrille Wedges $64.95   /   GAP Suede Western Ankle Booties $79.99 SALE