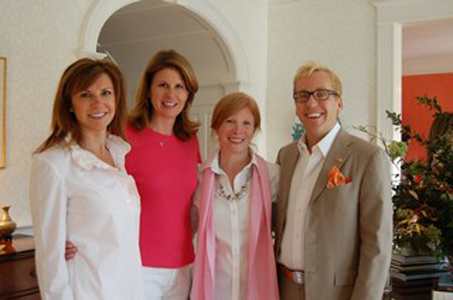 Benefit Co-Chairs Paige Montinaro, Julia Dunn and Jill Ciporin with Andrew Mitchell Namdar
The Breast Cancer Alliance will host its  15th Annual Benefit Luncheon and Fashion Show, Strength through Support, on Thursday, October 28 at the Hyatt Regency Greenwich.  Our vibrant pals, Jill Ciporin, Julia Dunn and Paige  Montinaro are co-chairing this spectacular event. Once again, the generosity of Mitchells/Richards will shine chicly as they stage a fabulous fashion show, spotlighting collections from their store, including this luncheon-perfect Michael Kors tweed dress with leather trim.  With Today Show co-host and NBC Dateline Correspondent Hoda Kotb as Guest Speaker, this year's event will be the highlight of the season for the ladies who lunch.  Since its beginning in 1996, this dynamic organization has awarded over $13.8 million dollars in grants.  To make early detection of breast cancer widely available, the Alliance supports a variety of programs provide free mammograms and other related services.  See below for the wonderful sponsors of the luncheon and for more information, to volunteer, or to donate please contact Breast Cancer Alliance.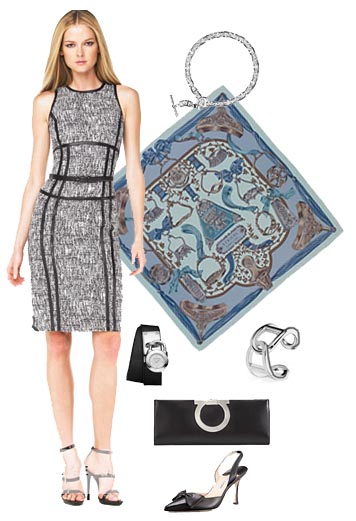 Dress: Michael Kors, Jewelry: Hermes, Cashmere Wrap: Hermes, Watch: Michael Kors, Clutch: Ferragamo, Shoes: Manolo Blahnik .  To purchase please contact Mitchells/Richards department store.
BAC would like to thank the following:
Luncheon provided by Greenwich Hospital • Beverages provided by Pepsico, Inc. • Decorations provided by MasterCard International • Invitations provided by Stamford Hospital • Beautiful gifts for each attendee provided by Angie and Steven Sall