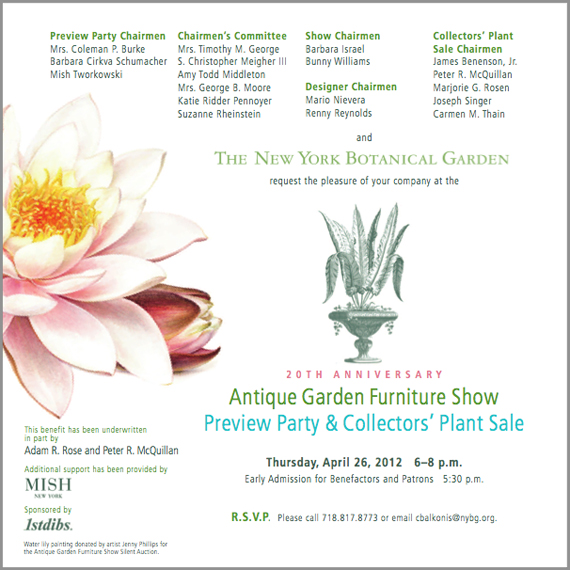 The 20th Anniversary Antique Garden Furniture Show Preview Party will kick off the spring season at The New York Botanical Garden on April 26, 2012. This exclusive preview event will take place in the Conservatory Tent, adjacent to the Enid A. Haupt Conservatory and is anticipated to attract 1,000 guests from the philanthropic, interior and landscape design, architecture and art worlds.  The show runs all weekend,  but the Preview Party is a not-to-be missed, event of the spring season.  It is underwritten in part by Adam R. Rose and Peter R. McQuillan, with additional support from Mish New York, and is sponsored by 1stdibs. The event is an opportunity for guests to gain early access to view and purchase the rare and coveted statues, urns, garden benches and more that will be on show by over 30 of the nation's leading experts in garden antiques and ornament.  Preview attendees will also enjoy a silent auction of one-of-a-kind plants, jewelry, garden décor, and other select items. Proceeds from the event directly support the work of the curators and gardeners who are responsible for making The New York Botanical Garden one of the most important horticultural showplaces in the world. This event is the opening celebration to a weekend of wonderful Garden activities.  For information, please call 718.817.8773 or email cbalkonis@nybg.org.
For what to wear to the Preview Party, we  found this sleek, chic silk diponi suit from Ralph Lauren.  This is a dazzling outfit at a surprising accessible price.  It will take you all through spring and summer evenings with great style.  To accessorize, we went shopping in Mish New York's fabulous jewelry box, just  blooming with color and texture.  The glorious green in the stones suggests one of the most luscious shades of spring.  Don't miss a chance to visit NYBG in all of it's seasonal splendor.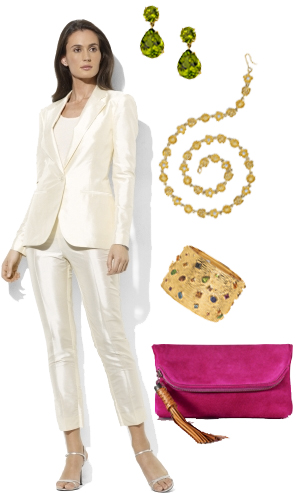 SHOP NOW: Lauren Benita Silk Jacket ($250), Lauren Susane Silk Ankle Pants ($149), Jewelry by Mish New York,  Suede fold-Over Zip Clutch ($695)
This year's Preview Party Chairmen are Mrs. Coleman P. Burke, Barbara Cirkva Schumacher,and Mish Tworkowski. The Antique Garden Furniture Show Chairmen are Barbara Israel and Bunny Williams. The Chairmen's Committee includes Mrs. Timothy M. George, S. Christopher Meigher III, Amy Todd Middleton, Mrs. George B. Moore, Katie Ridder Pennoyer, and Suzanne Rheinstein. The Collectors' Plant Sale Chairmen are James Benenson, Jr., Peter R. McQuillan, Marjorie G. Rosen, Joseph Singer,and Carmen M. Thain.
"This year our exhibitors are bringing a vast array of antique statues, massive urns, scene-stealing fountains and so much more," said Barbara Israel, Show Chairman, Antique Garden Furniture Show. "This is an opportunity to see the best available antique garden ornament and select pieces that suit gardens of all sizes.—even a garden setting on a city terrace."
The Preview Party Designer Committee is chaired by renowned landscape architect Mario Nievera and event designer Renny Reynolds. Designer Committee members include celebrated names from the worlds of interior and  landscape design, architecture, and fashion including Jonathan Adler, Juan Montoya, Charlotte Frieze and Ann Pyne, among others. Guests will have the opportunity to meet these designers and discuss garden architecture at the Preview Party.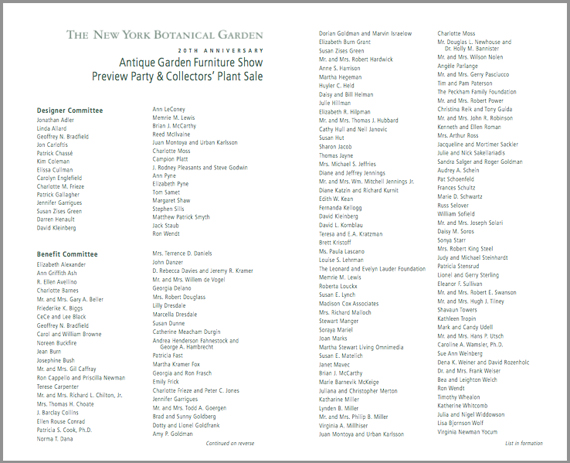 "As one of the original exhibitors at the first Antique Garden Furniture Show, twenty years ago, it's amazing to see just how much this show has grown over the years," said Bunny Williams, Show Chairman, Antique Garden Furniture Show. "With the impressive lineup of top designers and dealers who have put their time and energy into this, it promises to be an unforgettable and grand evening."