Galas and Formal Weddings at this time of year are so festive and feminine.  We pare and bare down to the basic tenants of elegant dressing.  Ditch the coat and the shawl and let your inner  garden nymph go! While shopping at SAKS.com, we spotted two fabulous trends in Formal Attire.   The first one is floral, which goes without saying, is taking over fashion right now, but the other one that we stumbled upon is floral AND flounce.   The top row has softest chiffon in diaphanous layers or tiers.  These are beautiful examples of a femininity that is so flattering and fun to wear.  Picture yourself swirling and swaying over the dance floor tight in the arms of a handsome stranger  husband!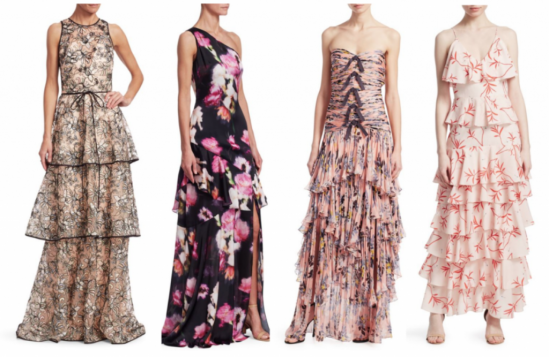 gowns from left:  Theia Triple Flounce Cord Embroidered Maxi  $995  /  Theia One-Shoulder Floral  $695  /  Cinq  Sept Emira Strapless  $1295  /  Borgo De Nor Filipa Tiered  $1533
And the wow factor continues down to the floor, or almost, in this bountiful bouquet of bright gowns.  I often buy  gowns when I see them, because the perfect one can be elusive just when you have an important event approaching.   One of these is just right for you.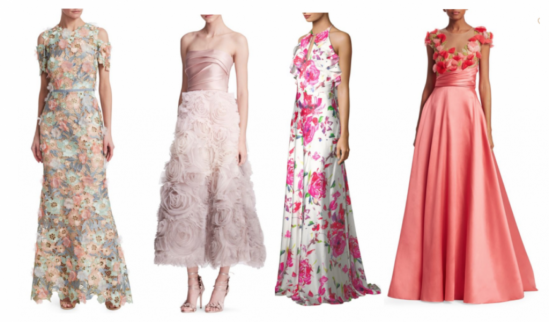 gowns from left:  Marchesa Notte Cold-Shoulder  $1195  /  Marchesa Notte Strapless Ombre  $1295  /  Theia Floral Halter  $695  /  Marchesa Notte Embroidered Floral Cap Sleeve Ball $1195