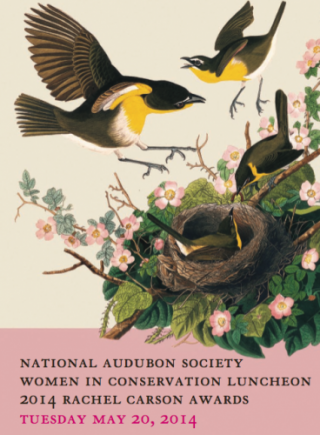 One of the most wonderful lunches of spring is the National Audubon Society Women in Conservation Luncheon 2014 and Rachel Carson Awards founded by Allison Whipple Rockefeller. This year the gathering of conservationists and philanthropists will honor Ellen Futter President of the American Museum of Natural History,  Kaiulani Lee Playwright and Performer of  "A Sense of Wonder," the Award-Winning play about Rachel Carson's love for the natural world and her fight to defend it, and Nell Newman Co-Founder and President of Newman's Own Organics.  Master of Ceremonies Anne Thompson NBC News Chief Environmental Affairs Correspondent.  Tuesday, May 20, 2014 The Plaza.   To purchase tickets or make a donation please CLICK HERE, or contact nyevents@audubon.org 212.979.3039.
For what to wear to a conservation minded luncheon we turned to nature and botanicals from Bergdorf Goodman to create a naturally beautiful pairing.  Carolina Herrerra's Botanical Print Sheath is simply teaming with nature's goodness, and we enhanced the effect with Ashley Pittman's Horn Studs and Lanvin's Woven Cuff.   Add a perfect pair of pointy patent pumps and and a clutch bursting with the shade of fresh daffodils and you are ready to support Mother Nature in all of her glory.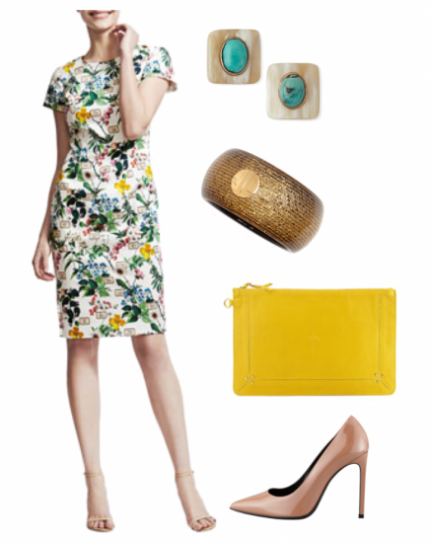 For information and to purchase, please click on the links: Carolina Herrera Botanical Cap-Sleeve Sheath Dress $1290   /   Ashley Pittman Maji Light Horn Turquoise Stud $395    /   Lanvin Golden Bangle with Woven Finish $445    /   Jerome Dreyfuss Pop Zip Clutch Bag $235   /      Saint Laurent Paris Pointed-Toe Patent Pump $645
Women have long played a leading role in the environment. Among the earliest American conservationists was Harriet Hemenway, who in 1896 brought her friends together to defend birds from being slaughtered for their plumes' use in fashion. In doing so, she helped to found the Audubon Society, now over one hundred years old and one of the most effective conservation organizations in the world.
Audubon's Women in Conservation strives to celebrate the incredible work of women conservationists and environmentalists through the prestigious Rachel Carson Award, and to empower future female leaders through its work in schools and internship program.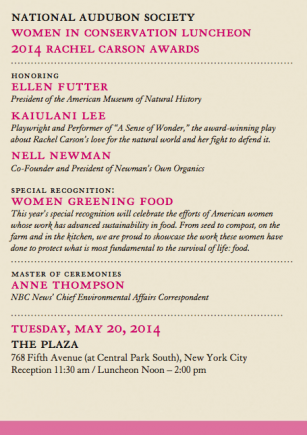 Special recognition: Women Greening Food.    This year's special recognition will celebrate the efforts of American women  whose work has advanced sustainability in food. From seed to compost, on the farm and in the kitchen, we are proud to showcase the work these women have  done to protect what is most fundamental to the survival of life: food.